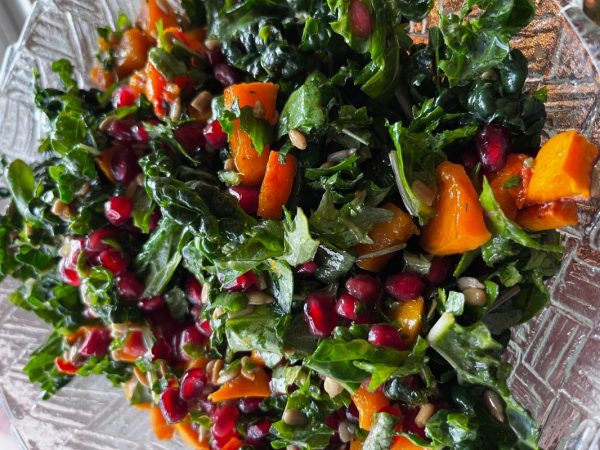 By: Cat Ebeling, RN, MSN-PHN, co-author of the best-sellers:  The Fat Burning Kitchen, The Top 101 Foods that Fight Aging & The Diabetes Fix
A wonderful, festive holiday salad, good any time of the year.
Everyone bashes kale these days, but it still contains a lot of super nutrients including magnesium, calcium, phosphorus, and potassium. Also, vitamin A (important for eye health and a strong immune response), vitamin C—also good for immune system and collagen repair, and vitamin K for bones and teeth. Kale also contains lots of absorbable folate, key for mental health and nervous system, alpha linoleic acid (a type of omega 3 fat), and lutein and zeaxanthin, important to prevent macular degeneration and fight aging.
The squash is full of fiber, carotene, and vitamin C as well, and pomegranate is loaded with antiaging, cancer fighting nutrients as well.
I made up this salad for a holiday get-together and it was a big hit! I hope you love it too.
Note: All measurements are approximate.
Ingredients
1 Bunch of dinosaur kale or baby kale
½ cup or so of pomegranate seeds
1 small or half large butternut squash, cubed and baked
Handful of sunflower seeds, pine nuts, almonds, or pumpkin seeds
Dressing
1 orange, squeezed
½ lemon or lime juice
¼ cup olive oil
Directions
Massage kale with a rolling pin. This makes it much more tender to chew. De-stem kale and chop in small bite-sized pieces.
Cube the squash and toss in a bowl with a drizzle of olive oil, a tsp or so of maple syrup, salt, pepper, and a tiny sprinkle of cayenne (optional). Bake in a 400F degree oven for 15 minutes or so until soft. May need to be stirred on baking sheet halfway. Remove from oven when tender and still slightly firm, and cool.
Add kale to salad bowl with pomegranate seeds, squash, and sunflower seeds. Mix up dressing, toss and serve. This salad works well if you want to make it ahead of time and keep in the refrigerator until ready to serve, up to 24 hours.
Wishing you good health and a soaring spirit.