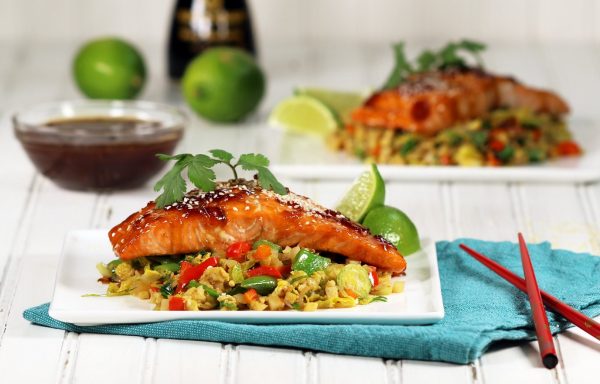 By: Cat Ebeling, RN, MSN-PHN, co-author of the best-sellers:  The Fat Burning Kitchen, The Top 101 Foods that Fight Aging & The Diabetes Fix
I love rice, but don't like to eat a lot of carbohydrates anymore. I find that many carbohydrates, especially grains like rice, easily make my blood sugar levels jump. And in terms of health and longevity, keeping blood sugar levels low and stable is the name of the game.
This delicious meal is easy to make, full of massive nutrition, and low carb as well. I recommend using wild caught sockeye salmon for the highest omega 3 fats and flavor.
You can make your own cauliflower 'rice' by cooking up a head of chopped cauliflower, but if you can find it at your grocery store, frozen cauliflower 'rice' is a great time saver. All you need to do is pop it in a pan, warm it up and add it to your favorite recipes instead of rice. Tastes great, and you get the health benefits of cruciferous vegetables.
Ingredients
2-4 sockeye salmon filets
4 cups of cauliflower rice (I used frozen cauliflower rice)
½ red pepper, chopped or minced
1 carrot, chopped in small pieces
½ cup frozen green beans
1 small baby bok choy, sliced
2 T minced onion
1-2 cloves garlic, minced
1/2" piece of fresh ginger, minced
½ cup frozen peas (optional)
1 egg, scrambled in the pan (optional)
4 T extra virgin olive oil or butter
1-2 tsp soy sauce
1 T Teriyaki sauce (I used San-J gluten free tamari Umami sauce from Whole Foods)
Directions
In a large saucepan, heat 2T oil or butter, and add in red pepper, carrot, onion, garlic and ginger. Cook and stir for 2-3 minutes until soft. Add in green beans and peas and cook for 3-4 minutes. Add the bok choy and stir. Add frozen cauliflower, soy sauce. Stir and let cook 5 minutes or so with lid on till cauliflower is soft and tender. Set aside. Add more butter or oil and add egg, scrambling in the pan. Stir egg and 'rice' ingredients together.
In another saucepan, cook the salmon with oil or butter, turning once. Cook about 7-10 minutes until done inside–pink, but not dark pink. Drizzle with teriyaki sauce or umami sauce and serve on top of the fried 'rice' mixture. Squeeze a lemon or lime over the top and serve. May be served in a bowl with some sliced cucumber, sliced avocado, and mung bean sprouts on the side, for a salmon fried rice 'bowl'.