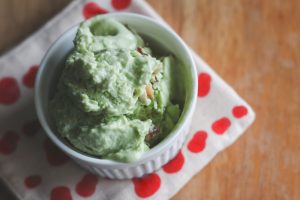 By: Cat Ebeling 
Co-author of the best-sellers:  The Fat Burning Kitchen, The Top 101 Foods that Fight Aging & The Diabetes Fix
Avocados are the perfect base for super creamy ice cream, and their mild flavor blends well with other flavors. I love using avocados to thicken and enrich most any recipe. They make a great substation for any kind of cream or cheese in recipes as well.
Avocados are everyone's favorite and hold numerous health and fat burning benefits. In fact, they are one of the best 'keto' type foods out there! They are filling, keep your blood sugar low and help you burn fat. Virtually any food that you add avocado helps make it lower glycemic, absorb slower and have less of an impact on your blood sugar. Even dessert!
Besides their heart healthy, monounsaturated fats, they contain potassium, vitamin E, B vitamins, and fiber, as well as oleic acid—the fatty acid that is so powerfully healthy. Avocados also contain a substance called glutathione, which is one of the most powerful anti-aging, anti-inflammatory antioxidants you can eat. Avocados also contain the antioxidants lutein, and zeaxanthin that nourish your eyes and skin.
Avocado's nutrients help lower blood pressure, reduce inflammation, reduce cholesterol, and most importantly, keep blood sugar stable. The powerful antioxidants in avocados also serve as weapons that prevent and kill cancer cells.
This low carb recipe is delightful and creamy without being high glycemic. It is a great fat-burning, satisfying dessert! Enjoy without guilt.
Ingredients
1 large or 2 smaller ripe avocados
1 cup raw coconut milk, almond milk or hemp milk (if you tolerate dairy well, feel free to use raw milk or raw goat milk instead here)
2/3 cup canned coconut milk (full fat variety)
1⁄4 cup raw honey (if you want this recipe to be Keto, use stevia, erythritol, and/or monk fruit sweetener instead of honey)
1 Tbsp lemon juice
1 tsp pure vanilla extract
1⁄2 cup chopped, toasted almonds
Dark chocolate, chopped in small pieces (can also add about 1/4 cup organic cocoa powder or raw cacao if you want more of a full chocolate ice cream taste)
Directions
Puree all ingredients except almonds, in food processor and blend. Stir in almonds, and pour mixture into ice cube trays and freeze for 4 or more hours, or place in ice cream maker and follow directions according to manufacturer. Remove from freezer 15-20 minutes prior to serving to allow to soften a bit.
Enjoy this delicious, rich and creamy dessert that is loaded with healthy fats and antioxidants, vitamins and minerals, all while keeping blood sugar stable.
You should also know that this recipe is an almost perfect low-glycemic snack for Diabetics, due to it's blend of fiber, healthy fats, antioxidants, and a reasonably low amount of sugars and carbs that impact blood sugar.
Speaking of Diabetes, make sure to read this page below next if you are concerned with pre-diabetes or type 2 diabetes:
1 Simple trick to REVERSE your Diabetes (hint: it's NOT cinnamon or any supplement)