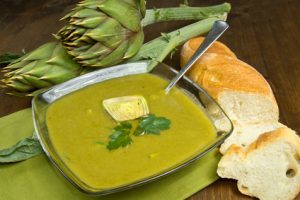 by Cat Ebeling 
co-author of the best-sellers:  The Fat Burning Kitchen, The Top 101 Foods that Fight Aging & The Diabetes Fix
This soup is perfect for when you need to get more greens in your diet—and it's a great soup to eat in the spring and summer, when more varieties of fresh ingredients are available. It's not that complicated and you can try different variations on this, depending on what you have on hand and what is in season. It's delicious and creamy and filling.
The primary ingredient in this soup and the nutritional super power is the artichoke. Artichokes are members of the thistle family. The actual artichoke is actually the flower portion of the plant when they bloom. When we eat artichokes, we are just eating the bud before it blooms. While everyone loves the artichoke hearts, it is actually the leaves and the artichoke flesh at the ends of the leaves that has the most nutrition.
Artichokes are very high nutrition, including potassium, magnesium, calcium, iron, phosphorus, vitamin B and C, and the trace minerals chromium and manganese that are very important to energy, metabolism and healthy cell function. And they are high in fiber, making them deliciously filling.
Artichokes two potent natural chemicals, cynarin and silymarin, which are very effective at detoxifying the liver, stimulating the kidneys, and increasing the flow of bile. Bile, which comes from the liver, breaks down fats and also helps to lower cholesterol. Cynarin was once actually used as a cholesterol-lowering drug, and tests show it can decrease total cholesterol and drop LDL by about 20%. That's pretty impressive! And one other plus for the artichoke:  because it helps to detoxify the liver, it may be wise to eat after you've have had too much to drink. More about artichoke health benefits, click here.
Since most all greens contain super nutrition, many types of greens work well in this soup; I often throw in whatever leafy greens I have on hand, such as kale, chard, spinach, beet greens, etc.
Ingredients
2 medium or large-sized artichokes
1 cup of water with juice of 1 lemon added
1 Tbsp of extra virgin olive oil
1 or 2 leeks, white part only, washed and sliced
2 garlic cloves or more for taste
1 or 2 small new potatoes quarter and sliced
Several leaves of butter lettuce, bib lettuce, sorrel, or organic spinach
1 Tbsp of chopped Italian parsley
Sea salt
5 or 6 cups water
1 lb of fresh peas, or 1 cup frozen peas
Garnishes
Extra virgin olive oil
Fresh ground pepper
Parmigiana-Reggiano, shaved or grated
Directions
Trim the artichoke leaves off, and break off all tough outer leaves at base. Slice off the top of the remaining artichoke about 2/3 of the way down. Cut the artichokes in quarters and remove the fuzzy centers. Drop them into the lemon water when done to prevent them from turning dark.
Warm the extra virgin olive oil and add the leeks, artichokes, garlic, potato, greens and salt. Add about a half-cup water and stew gently for about 5 minutes. Add peas and the rest of ingredients, and simmer, partially covered for about 20 minutes until artichokes and potato are tender.
Cool slightly and then blend in a blender for a creamy texture. Blend the soup in batches, garnish generously with extra virgin olive oil, pepper and freshly grated Parmigiana Reggiano cheese. Serves 4.
You should also know that this recipe is an almost perfect low-glycemic snack for Diabetics, due to it's blend of fiber, healthy fats, antioxidants, and a reasonably low amount of sugars and carbs that impact blood sugar.  Speaking of Diabetes, make sure to read this page next:
1 Simple trick to REVERSE your Diabetes (hint: it's NOT cinnamon or any supplement)