By: Cat Ebeling, BSN, co-author of the best-sellers:  The Fat Burning Kitchen, The Top 101 Foods that Fight Aging & The Diabetes Fix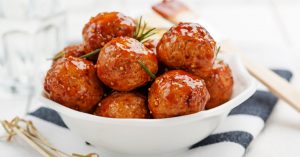 Sure, to be a hit at any party—any time of the year!
These delicious meatballs have an exotic Asian flavor and taste fantastic served with fresh pineapple-mango salsa!
Pineapple salsa not only tastes great with this delicious recipe but its ability to help with indigestion, inflammation, fertility and mental health make it extra enjoyable. Pineapple contains a large supply of vitamin C, potassium, manganese and B1, along with a variety of antioxidants that help prevent diseases.
Pineapple contains a unique ingredient, bromelain, that helps fight inflammation, making it especially useful for those with arthritis and joint pain. Bromelain is also useful to help heal athletic injuries such as sprains and muscle strains. Bromelain actually counters pain and inflammation by blocking certain metabolites that cause swelling. It also helps decrease swelling by activating a chemical in the body that breaks down a substance called 'fibrin', which is part of the inflammatory process of healing from an injury. Bromelain is so effective, it is often taken before any type of surgery to help speed healing and reduce inflammation.
Bromelain is not just effective on muscles, joints and ligaments—it is also effective to reduce inflammation caused by allergies or colds. Bromelain reduced inflammation in the nasal sinuses from sinusitis. Bromelain from pineapple increased recovery time over standard conventional medical treatment.
Bromelain and other substances in pineapple also help the body to break down proteins into individual amino acids, helping the body to digest better, and making it the ideal partner for meat dishes. Bromelain's other digestive system benefits include soothing ulcerative colitis, slowing acid reflux, and helping with constipation.
And for those who have celiac disease (a serious disease from eating gluten), pineapple effectively helps to breakdown the gluten proteins in many foods like wheat, barley and rye products.
Paired with mango, this salsa becomes a powerful disease-fighting, health promoting tool. Mango is known for its ability to lower blood sugar, lower blood pressure, boost brain and mental health with its B6, and lower cholesterol levels.
And because of its bright orange color, it contains high levels of the super anti-oxidant, betacarotene which fights cancer and asthma. Mangoes are brimming with vitamin C, helping them boost immunity levels to fight off disease and slow down aging.
Mangoes also contain another important antioxidant, zeaxanthin. This nutrient helps to protect eye health and guards against age-related macular dengeration, one of the leading causes of vision loss, especially in older adults.
Ingredients for Meatballs
1 lb ground pork, naturally raised
1 pasture raised egg
1/3 cup coconut flour
½ red onion, diced finely
2 cloves garlic
2 T fish sauce
2 T soy sauce
2 teaspoons finely chopped or grated fresh ginger
2 T Thai sweet red chili sauce
½ teaspoon salt
Handful of chopped cilantro
2 T sesame seeds
Directions
Mix all ingredients together well. (I used my clean hands)
Roll in 1 ½" diameter balls.
Place on a baking sheet with sides, so the juice doesn't run off.
Bake in a 375 degree oven for 30-40 minutes, turning to brown evenly.
Serve immediately or in a crockpot with the juice from the pan.
Serve with generous amounts of Pineapple-Mango Salsa on the side, below.
Pineapple Mango Salsa
This is delicious served with the Asian Meatballs, Porkchops, Fish, or even Chicken. Liven up a dinner with the sweet and spicy taste of pineapple and mango, high in vitamin A, antioxidants and digestive enzymes. Enjoy.
Ingredients
Half of a decent sized pineapple, chopped in small pieces
1-2 ripe mangos, chopped
½ red onion
1-2 cloves of garlic minced
1-2 Romano tomatoes, chopped
'Handful of cilantro, chopped
Juice of 1-2 limes
Touch of sea salt
Directions

Mix all ingredients together, serve or refrigerate.
Looking for easy, tasty recipes that help you burn fat, then look no further…
This free recipe book is packed with over 80 fat-burning Keto recipes, such has mouth-watering chicken, beef, pork meals and more…
Best yet, every single recipe uses a slow cooker. Spend less than 20 minutes in your kitchen whipping up these delicious meals.