By: Cat Ebeling, BSN, co-author of the best-sellers:  The Fat Burning Kitchen, The Top 101 Foods that Fight Aging & The Diabetes Fix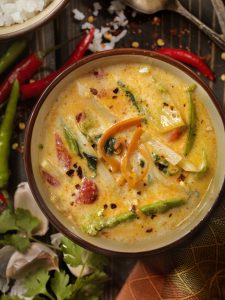 I made this recipe up and has been a huge hit with family and friends. It's also a fun and different dish to make when having company and sure to be popular! It has a wonderful, slightly spicy curry flavor with lemongrass, lime, and creamy coconut milk. You can use fish, chicken, shrimp or even thinly sliced pork for protein.
While Thai recipes seem to contain a lot of ingredients, the ingredients make all the difference. If you cannot find lemongrass at your local grocery store or health food store, you can just use lemon or lime for seasoning.
Thai recipes generally use coconut milk to give them that smooth creamy taste, and I think it tastes way better than regular dairy milk or cream. Plus, coconut milk contains healthy saturated fats, with plenty of medium chain triglycerides that help you to burn fat, lower your blood sugar, keep your energy blasting and feed your brain with the fats it needs to work well.
Coconut milk also contains lauric acid, which is fights viruses, bacteria, fungus, and other dangerous microbes that can make you sick. The lauric acid is a great immune booster, so perfect for any time of the year when you need that extra boost to fight off colds and flu.
Thai food also contains some powerful spices that make it especially good for you, including garlic, olive oil, ginger, lemon grass and the super-food turmeric. Garlic, ginger and turmeric are powerful anti-inflammatories, immune boosters and have been proven to kill cancer cells.
Shitake mushrooms are also powerful immune boosters and contain polysaccharides, terpenoids, sterols and lipids linked to immune boosting cholesterol lowering, and cancer fighting benefits. And the cilantro is detoxifying, helping to remove heavy metals like mercury.
So, you see, this is the perfect dish to power up your immune system, fill your body with massive super-foods and antioxidants, and enjoy!
Ingredients
2-4 cloves garlic minced
3 T grass fed butter or coconut oil
1 T minced fresh ginger
1 sweet red bell pepper, sliced thinly
1 stalk lemon grass out leaves removed, cut down middle and cut in 2″ sections
2-4 small carrots sliced thinly
Sliced fresh shitake mushrooms or baby portabella mushrooms
1/2 to 1 lb chicken, or firm flesh fish like salmon, cod, halibut, tuna cut in 1" chunks
Saute the above ingredients in butter over medium heat until slightly tender, about 5-7 minutes.
Then add the following:
1 1/2 cups chicken stock
1 can full fat coconut milk
1/4 cup tamarind sauce
2 T fish sauce
1 Tbsp rice wine vinegar
Pinch of sugar
2 tsp minced fresh turmeric root
Juice of one lime
Hot pepper flakes to taste
A handful of chopped cilantro (for garnish)
Directions
Simmer for 10-15 minutes until meat is cooked through and vegetables are tender. Serve over brown rice, quinoa or zoodles (zucchini noodles). Garnish with generous amount of cilantro. Serves about 4 but watch out–it's very popular!
Bon Appetit!
Looking for easy, tasty recipes that help you burn fat, then look no further…
This free recipe book is packed with over 80 fat-burning Keto recipes, such has mouth-watering chicken, beef, pork meals and more…
Best yet, every single recipe uses a slow cooker. Spend less than 20 minutes in your kitchen whipping up these delicious meals.