By: Cat Ebeling, BSN, co-author of the best-sellers:  The Fat Burning Kitchen, The Top 101 Foods that Fight Aging & The Diabetes Fix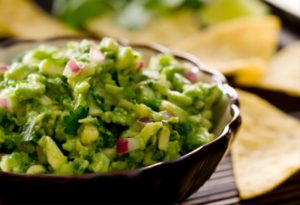 A Really different, refreshing way to eat guacamole. The addition of baby peas adds an unusual, fresh, sweeter taste to the guacamole. And the peas add a little more fiber as well as decreasing the calories in the guacamole.
We'd have to be living in a cave to not have heard about the benefits of avocado. The superstar ingredient adds healthy fats, tons of vitamins, minerals and anti-inflammatory antioxidants. Check. But what about the lowly radish that has been around forever? This recipe spikes up the flavor a bit with the addition of radishes.
Radishes are members of the highly esteemed cruciferous vegetable family, along with other star members such as kale, broccoli, cauliflower, turnips, collards, arugula, cabbage and brussels sprouts. That means radishes carry much of the same powerful nutritional, cancer-fighting punch as their cousins—but radishes have their own attributes as well.
Radishes contain a variety of vitamins, minerals and other phytochemicals. They are an effective diuretic, helping the body get rid of bloating, and excess fluids. Radishes are also an excellent detoxifying vegetable, not only helping to get rid of excess fluids, but also helping the liver function better. One of the things radishes do well is to help the liver get rid of excess bilirubin, the substance in the body that causes jaundice.
Because of their bright red color, radishes also contain the same powerful flavonoid you find in blueberries—anthocyanin. These anthocyanins are powerful anti-inflammatories that help to lower the risk of heart disease, peripheral artery disease, heart failure and kidney disease. In addition, its anti-inflammatory effect helps fight diabetes, obesity, arthritis, and Alzheimer's disease. Plus it contains another anti-inflammatory substance, vitamin C, which helps to build collagen to strengthen tissues in the body that fight wrinkles and saggy skin, and strengthen tendons and ligaments.
Top that off with the addition of garlic—one of the most powerful foods in the world, hot pepper to help open up your blood vessels and burn fat, and cilantro—full of heart-healthy magnesium, vitamins, minerals, and detoxifying substances that help to remove dangerous heavy metals like mercury, arsenic and lead. You cannot miss with this yummy snack! Try it with sliced cucumbers, jicama, carrots and celery for a refreshing, fat burning treat. Enjoy and know you are doing your body good!
Ingredients
8 ounces frozen baby peas, slightly thawed.
1/2 large or 1 whole small avocado
4-6 radishes, chopped
1 jalapeno pepper (seeded and de-ribbed for less hotness)
1-2 tablespoons extra virgin olive oil
juice from a half of a lemon or lime
Sea salt, to taste
fresh ground black pepper
1/4 tsp cumin
Handful of chopped cilantro
1 garlic clove, minced
1 Roma tomato, diced
1/4 cup to 1/2 cup minced red onion
Directions
Combine all ingredients in a food processor and 'chop' until combined. Does not need to be well blended, can be chunky. Enjoy with chips or better yet, slice up some cucumber, zucchini, and red and yellow sweet bell peppers for an awesome, super healthy dip.
Looking for easy, tasty recipes that help you burn fat, then look no further…
This free recipe book is packed with over 80 fat-burning Keto recipes, such has mouth-watering chicken, beef, pork meals and more…
Best yet, every single recipe uses a slow cooker. Spend less than 20 minutes in your kitchen whipping up these delicious meals.