By: Cat Ebeling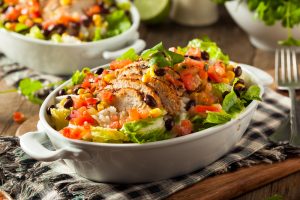 Co-author of the best-sellers:  The Fat Burning Kitchen, The Top 101 Foods that Fight Aging & The Diabetes Fix
Want to max out your nutritional needs in one fell swoop? Well this salad fills the bill! Full of fresh, raw, bursting with nutrition ingredients, a massive amount of vitamins, minerals, and all the antioxidants you can eat in one meal. Not to mention, it contains oodles of vitamin K, vitamin C, magnesium, healthy fats, and protein.
Top it all off with plenty of cleansing cilantro. Cilantro (or coriander as it is sometimes called) has been used as a medicine for years and years and is often used to detox and cleanse the liver, balance the blood sugar and remove dangerous metals from your system, like mercury, aluminum, arsenic and lead. While these metals can build up in your body to toxic levels, eating plenty of cilantro will actually help to clean them out of your system. Cilantro contains a substance that will bind to heavy metals in the body and carry them right out. So, if you happen to eat lots of fish like tuna, be sure to add cilantro to your meals.
Cilantro is also widely known as an aid for diabetes. It helps to lower blood sugar, improve insulin sensitivity, and in turn, lower your triglycerides. One study on rats showed treatment with 200mg of coriander significantly increased insulin secreting beta cells (in the pancreas). In another study published in the Journal of Food Sciences, cilantro was shown to promote healthy liver function and stable blood sugar. Cilantro is also very effective at calming nerves, and soothing anxiety.
Top off your salad with avocado, tomato, roasted pumpkin seeds and some chopped jalapeno and you have an absolutely winning combination!! Enjoy—it's a proven crowd pleaser!
Dressing
¼ cup chopped shallots
¼ cup fresh lime juice (juice of 1 lime)
½ cup or more fresh cilantro chopped
2-3 cloves of finely minced garlic
1/3 cup extra virgin olive oil
Sea salt and fresh ground pepper
Dressing Directions
Combine first four ingredients in medium bowl. Gradually whisk in oil. Season with sea salt and pepper.
Salad
3 cups of thinly sliced red leaf lettuce (preferably organic)
3 cups thinly sliced Napa cabbage
2-3 Roma tomatoes, seeded and chopped
½ roasted red bell pepper (you can usually find these already roasted in the store or see below on how to roast your own)
½ roasted yellow pepper
Half (or more) firm avocado, peeled and diced
¼ cup minced red onion
Half can black beans, drained and rinsed
1 small jalapeno, de-seeded, de-ribbed and minced
2 small tomatillos, hulls removed and chopped (green Mexican tomatoes)
¼ cup toasted pumpkin seeds
½ cup crumbled queso anejo, or feta cheese (optional)
2-4 cooked chicken breasts, cooked and sliced in thin strips, or shredded with a fork
(Grilled chicken tastes best for this recipe.)
Salad Directions
Combine salad ingredients in large bowl and toss in dressing just before serving. Place cut or shredded chicken on top. Serves 4-6.
To roast peppers: heat oven on 'broil'. Slice peppers in half; remove stem and seeds. Place skin side up on flat pan in oven near heat. Roast for 4-7 minutes until skin begins to turn black. Remove and cool. When cool, slide off blackened skin and slice peppers in thin strips.
You should also know that this recipe is an almost perfect low-glycemic meal for Diabetics, due to it's blend of fiber, healthy fats, antioxidants, and a reasonably low amount of sugars and carbs that impact blood sugar.  Speaking of Diabetes, make sure to read this page next:
1 Simple trick to REVERSE your Diabetes (hint: it's NOT cinnamon or any supplement)