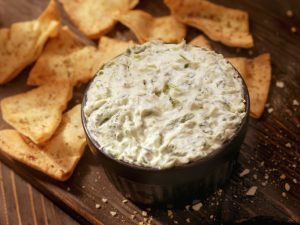 By: Cat Ebeling, BSN, co-author of the best-sellers:  The Fat Burning Kitchen, The Top 101 Foods that Fight Aging & The Diabetes Fix
I don't know about you, but sometimes my body just craves greens. Especially those dark green leafy ones like kale, parsley, cilantro, spinach, chard, etc. But I don't always have them on hand, and don't have time to run by my favorite Whole Foods salad bar to make—or eat—a huge salad.
I was looking for something fun to do with the kale I had in the fridge the other day, and thought, Maybe I should make something yummy to dip veggies in!
My favorite type of kale is that super dark green kale known as "dinosaur kale" with the bumpy surface. It's also officially known as "Lacinato kale" or Tuscan kale, Italian kale, black kale, or black Tuscan palm. It's dark green but tender texture works well in a variety of dishes and it works better in many dishes that call for raw kale, since it is much more tender and mild-tasting than the typical curly-leafed kale, which works better with cooked dishes. And if you'd like it to be more tender, you can actually knead it. I do this by wrapping clean kale leaves in a dishtowel (preferably one you don't like much, cuz it may get green stains) or waxed paper. Then use a rolling pin and roll it back and forth firmly. Viola! Tenderized kale.
While kale has been the 'hot' superfood for the last ten years or so, there may be a few things you haven't heard or didn't realize about this fabulous green leafy.
A cup of chopped kale actually contains over a hundred percent of your recommended daily intake for vitamin C. More vitamin C than an orange! So gram for gram, a cup of kale contains more vitamin C than an orange.
Kale is a good source of healthy fats—especially alpha-linoleic acid, the vegetable form of omega 3 essential for brain health, heart health and better fat burning.
Kale contains a massive amount of beta carotene, the precursor to vitamin A. In fact, it contains 130% of a person's daily vitamin A requirement—more than any other leafy green. But it is transformed into usable vitamin A more easily in the presence of a healthy fat. So enjoy your kale with a bit of EVOO, grass fed butter, cheese, or bacon.
Kale vs. cow? Kale contains more calcium than a glass of whole cow milk, and because it also contains potassium and magnesium, it is absorbed more easily. So drink your kale!
Kale is full of super healthy phytonutrients like quercetin which fights inflammation and allergies. It's sulforaphane is among the top cancer-fighting compounds found in cruciferous veggies, but keep in mind, most of these healthy compounds are more easily absorbed with healthy fats, so eat it with avocado, extra virgin olive oil, parmesan cheese, or cooked with butter or bacon fat. Also, acid from lemon juice helps to make the iron in kale more bioavailable too.
I have an allergy to regular cow dairy, but lately I have been seeing sheep milk, sheep yogurt, and sheep cheese at my favorite healthy foods grocery store. So I gave it a try. Sheep milk yogurt is delicious and is tolerated well if you have a cow dairy allergy. The sheep yogurt I have been purchasing is organic, comes from farms where the sheep are humanely raised, and is full of nutrients above and beyond cow milk. The sheep are pasture raised, and the sheep milk yogurt contains double the protein of cow or goat milk. It also contains almost twice as much of the healthy omega 3 and omega 6 fats, more vitamins and minerals, and more calcium, magnesium, phosphorus and zinc. And it tastes delicious! No strong flavor like some goat milk products contain. In fact, I cannot tell the difference between it and regular cow milk.
You have to try this delicious dip made with sheep milk yogurt, kale and other yummy healthy ingredients. It's the perfect thing to munch on with veggies of all kinds, or even try it on a salad as a creamy dressing.
Creamy Veggie Dip
Ingredients
2 cups plain Greek yogurt or sheep milk yogurt
3-5 leaves of dinosaur kale, tough rib removed
2-3 cloves of garlic, minced
¼ cup green onion, chopped
½ coarsely chopped red pepper
Handful of parsley or cilantro
½ lemon, juiced
Sprinkle of red pepper flakes or couple shots of Tabasco
Directions
Add all ingredients to a food processor and blend, using a coarser grind.
Slice up some of your favorite veggies: jicama, cucumber, radishes, celery, carrots, zucchini and enjoy!
Looking for easy, tasty recipes that help you burn fat, then look no further…
This free recipe book is packed with over 80 fat-burning Keto recipes, such has mouth-watering chicken, beef, pork meals and more…
Best yet, every single recipe uses a slow cooker. Spend less than 20 minutes in your kitchen whipping up these delicious meals.