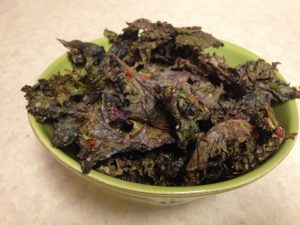 By: Cat Ebeling, BSN, co-author of the best-sellers:  The Fat Burning Kitchen, The Top 101 Foods that Fight Aging & The Diabetes Fix
Yes, we've all had a love affair with kale, and it's not over yet! Kale has become so mainstream and widely accepted that a meal or event is just not complete without it!
Kale's popularity as a superfood has not diminished, so no reason to stop eating it. The popularity of kale has helped bring about some great variations besides the regular ol' curly leafed kale. My favorite type of kale is dinosaur kale, with its dark green bumpy texture, but there is also a Premier kale with pretty, small flat leaves; Redbor kale, with a beautiful deep purple shade and tightly curled leaves; Siberian kale with large green leaves; Red Russian kale with purple stalks and green delicate lacey leaves, and Kamome red kale that looks a little like red cabbage. All these varieties of kale are full of the same cancer fighting, health promoting compounds. In fact, kale is still the king of superfoods, and one of the most nutrient dense foods you will ever eat!
Loaded with amazing antioxidants including beta carotene, vitamin C, quercetin and kaempferol that have some amazing heart protective, blood pressuring lowering, anti-inflammatory, cancer fighting effects. Kale's antioxidants even extend to anti-depressant and anxiety-lowering benefits.
Kale also contains bile acid sequestrants, which bind with bile to help remove harmful cholesterol. One study found that drinking kale juice increased HDL cholesterol and lowered LDL cholesterol, lowering heart attack risk in men. Also, steaming the kale will dramatically increase its bile acid binding effect, making it as efficient as some cholesterol drugs—without the unpleasant side effects.
So yeah, although kale has been around awhile, it's still the superfood it's always been. Enjoy these tasty kale chips. You can easily munch through a huge pile of them and not feel a twinge of guilt.
The dressing is made up of a delicious blend of lime juice, spices and tahini. Tahini is a delicious nutty tasting butter made of toasted sesame seeds. It has been used for thousands of years in many middle eastern dishes, including hummus and falafels.
Tahini is full of health benefits and is one of those versatile ingredients you should keep on hand for sauces, dressings, and dips. Tahini is a great source of omega 3 fatty acids, which boost brain health, strengthen the immune system, protect against all types of inflammation and reduce the risk of diabetes, heart disease and Alzheimer's disease.
Tahini also contains plenty of magnesium, phosphorus, copper, iron, selenium and zinc, which boost the immune system and keep bones strong. Tahini's high fat and protein content also help to keep blood glucose low, making it a great food for fat burning, keto diets, and maintaining low glucose levels.
These kale chips are so delicious, I am going to have to stop writing and go make a batch of these healthy, yummy, crunchy, delectable chips!
Ingredients
1 large bunch of any type kale, inner ribs removed
2 tablespoons lime or lemon juice
2 tablespoons extra virgin olive oil
4 tablespoons tahini
1 teaspoon nutritional yeast
1 teaspoon crushed red pepper flakes
½ teaspoon salt
Directions
Preheat the oven to 200 degrees F (or plug in your dehydrator). Line a baking sheet with foil or parchment.
Wash and thoroughly dry the kale, then remove the leaves from the tough inner stem. Slice or rip into large pieces. Remember- they'll shrink as they dehydrate so don't go too small. Place in a large bowl.
In a small bowl, whisk together the remaining ingredients. Pour over the kale and coat each leaf thoroughly. It's messy, but the best way to do this is with your hands.
Spread the chips in a single layer on the baking sheet with parchment paper or in a dehydrator. Kale baked in the oven will take up to an hour (start checking on them after 30 minutes. The dehydrator will take approximately 8 hours.
Chips are ready when the seasonings are completely dry and the kale is crispy.
Looking for easy, tasty recipes that help you burn fat, then look no further…
This free recipe book is packed with over 80 fat-burning Keto recipes, such has mouth-watering chicken, beef, pork meals and more…
Best yet, every single recipe uses a slow cooker. Spend less than 20 minutes in your kitchen whipping up these delicious meals.