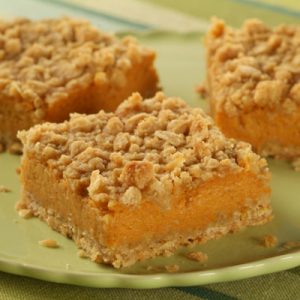 By: Cat Ebeling, BSN, co-author of the best-sellers:  The Fat Burning Kitchen, The Top 101 Foods that Fight Aging & The Diabetes Fix
I've never been a huge fan of pumpkin pie, but I do like pumpkin, so I decided to make up this pumpkin bar recipe a few years ago. It's always a huge hit anytime of the year, and it has become so popular that it now demands a place on the dessert table over the holidays too. My kids even request it as a birthday 'cake'.
Have you ever noticed that in the fall there are a lot of vegetables that are orange, red or yellow colored? Think of pumpkins, all different types of squashes, carrots, beets and sweet potatoes. All of these foods, especially pumpkin, are full of powerful antioxidants like alpha carotene, and beta-cryptoxanthin which protect your cells and keep them healthy.
Beta carotene is one of the best known of these antioxidants. Beta carotene is the vegetable form of vitamin A, which your body converts—in the presence of fat. Beta carotene helps fight diseases, making your immune system stronger, fighting everything from cancer to heart disease to colds and flu.
Beta carotene also protects the skin against sun damage making it a healthy way to 'eat your sunscreen', and it protects against eye diseases, and promotes younger, healthy looking skin.
Pumpkins also contain a good amount of vitamin C, so combined with the vitamin A from beta carotene it really helps to strengthen the immune system, making these autumn vegetables a great food for fall and winter to help flight colds and flu and many other diseases.
Pumpkins also contain lots of potassium which balances out sodium and helps to decrease blood pressure. Increased potassium also reduces your risk of strokes, protects against heart disease, and helps the body to preserve bone density.
Because pumpkin is rich in fiber, it helps you to feel more full and it helps to slow the absorption of carbohydrates, and helps to lower blood sugar in your body. Because of this, pumpkin is considered a good food to eat if you have diabetes or are trying to lose weight. Pumpkin's healthy fiber also helps digestion, and constipation, and increases nutrient absorption as well.
Let's check out these delicious pumpkin bars:
Pumpkin Streusel Bars
Ingredients
½ stick (1/4 cup) organic butter
½ cup palm sugar
1/3 cup pure maple syrup
2 eggs
2 tsp of vanilla
1 can organic canned pumpkin
1 cup brown rice flour, gluten free flour, cassava flour or almond flour
½ tsp salt
3 tsp baking powder
½ tsp cinnamon
¼ tsp nutmeg
¼ tsp cloves
1/3 cup coconut milk, almond milk or flax milk
Streusel Topping
½ stick (¼ cup) grass fed butter
¼ cup palm sugar
2 tsp cinnamon
¼ cup old fashioned oats, or ½ cup chopped pecans or walnuts
¼ ground flax seeds
Directions
Preheat oven to 350 degrees. Grease a 9 x 12 baking pan.
Blend butter, sugar and syrup in mixing bowl till creamy. Add eggs, vanilla and pumpkin. Mix well. Add dry ingredients and mix well; add in enough milk to make a creamy smooth batter. Mix well and pour into a 9 x 12 greased pan.
In food processor or using an old-fashioned pastry knife (those kinds with multiple blades), mix dry ingredients until well mixed and crumbly. Spread over the top of pumpkin mix and bake at 350 degrees for 35-40 minutes or until a toothpick inserted comes out clean. Cool and slice into squares.
Enjoy!