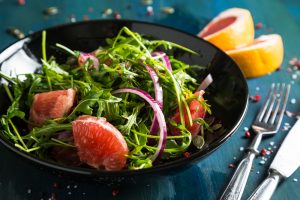 By: Cat Ebeling
Co-author of the best-sellers:  The Fat Burning Kitchen, The Top 101 Foods that Fight Aging & The Diabetes Fix
Arugula is a spicy and intense salad green, alone it can often be hot and bitter, but if you add the right ingredients it comes alive! This salad has just the right amount of sweet, juicy grapefruit, plus the unexpected sweet taste of fennel to blend in and pick up the spicy hints in the arugula. Arugula is a member of the very healthy cruciferous vegetable family, full of cancer-fighting compounds and tons of vitamins and antioxidants.
Arugula contains tons of folate, an essential B vitamin, along with vitamin K, vitamin A and other carotenoids. Arugula also contains special compounds called "isothiocyanates", which have anti-cancer, anti-inflammatory and anti-aging properties.
Cruciferous veggies are known for their cancer fighting abilities, and arugula does not disappoint! These cancer fighters contain high levels of antioxidants that help eliminate toxins from the body that can cause cancer. Arugula is also great for lowering blood sugar, fighting diabetes and preventing obesity.
And here's something you probably didn't know about arugula—arugula was thought to be an aphrodisiac by the ancient Egyptians and Romans. The Romans found that those who ate arugula more often were not only in better health, but sexually energized as well! So ,if you happen to have a special date, perhaps this is the salad to make! For the mildest tasting arugula, look for baby arugula, which still has some of the bite and spiciness without the bitterness.
Enjoy this salad while grapefruit are still around and in season!
Ingredients
½ half small bag of baby arugula (about 4 cups) or more, if desired
1 fennel bulb, white part only, sliced very thinly
1 grapefruit, sectioned
3-4 green onions, sliced thinly
Shaved raw cheese, like Gruyere, Manchego or Parmigiana Reggiano.
Dressing
2 T of orange juice (fresh squeezed is best)
Juice of 1 lemon or lime
2 T of red wine vinegar
1 teaspoon of sugar
¼ cup extra virgin olive oil
Directions
Using a mandolin, shave the fennel in thin slices, or cut with a sharp knife. Cut up grapefruit in sections, removing the membrane and saving the juice if possible. Squeeze any extra juice into bowl for salad dressing. Mix up dressing ingredients and pour over salad right before serving, garnish with cheese. Serves 4. Makes a great accompaniment to fish or chicken dishes.
You should also know that this recipe is an almost perfect low-glycemic meal for Diabetics, due to it's blend of fiber, healthy fats, antioxidants, and a reasonably low amount of sugars and carbs that impact blood sugar.  Speaking of Diabetes, make sure to read this page next:
1 Simple trick to REVERSE your Diabetes (hint: it's NOT cinnamon or any supplement)