Many of our lives are being affected by the dangerous COVID-19 virus. From schools being closed, business shutting their doors and their employees having to work from home, everyone has to get adjusted to this new lifestyle. Social gatherings, such as dining-out or take-out has been another casualty of the COVID-19 virus.
Below are some healthy, and immune boosting recipes that your family will enjoy while you stay safe.
Rockin' Spicy Sweet Potato Chili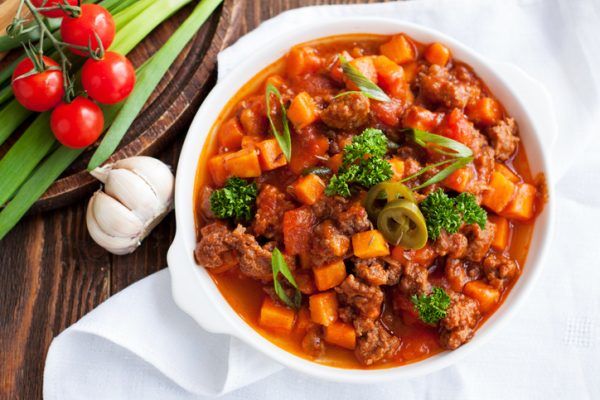 Ingredients
1 Tbsp olive oil, butter or ghee
1 onion sliced
1 ½ lbs ground free range turkey thigh, natural chorizo, or spicy Italian sausage
2 Tbsp chili powder
1 Tbsp paprika
1 Tbsp cumin
2-4 cloves minced garlic
3 medium sweet potatoes, chopped into 1/2 inch chunks, you can leave skin on
2 cups water
4 cups chicken broth or bone broth
1 small can black beans
¼ tsp cayenne or red pepper flakes to taste
Salt and pepper
Top with pumpkin seeds
Directions
Heat the oil or butter over medium high heat in a large pot. Add the onion, meat, chili powder and other seasonings. Brown the meat and crumble up. Remove the meat from the pan and set aside.
Add sweet potatoes in same pot with the remaining ingredients and stir to combine. Brown the sweet potatoes, add garlic, water and broth. Bring to a low boil and simmer for 10-15 minutes. Using an immersion blender or a potato masher, blend up the sweet potatoes until smooth. Add meat, beans, and hot pepper, back to the sweet potato liquid and stir. Heat through and serve.
Healthy Vegetable Soup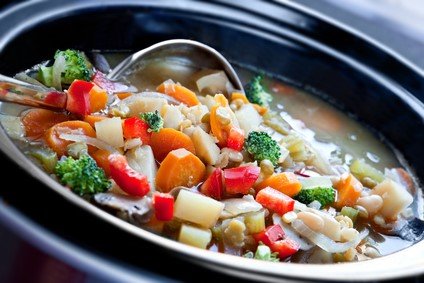 Ingredients
1 lb or so chopped up boneless chicken thighs
Several cloves of garlic, chopped
1 small red onion, chopped
Shiitake mushrooms, sliced
3-4 carrots, sliced
4 stalks celery, chopped
Green beans, chopped
1 medium zucchini, chopped
2-3 tomatoes, chopped
Several leaves dinosaur kale
1 carton chicken bone broth or vegetable broth
1-2 cans garbanzos
1 cup white wine
3-4 bay leaves
Fresh or dried rosemary
1 tsp of basil
1 tsp of smoked paprika
Sea salt and black pepper, to taste
Juice of one lemon
2-4 cups water
Extra virgin olive oil
2 Tbsp butter
Directions
In a large pot, add olive oil and butter, turn pan on medium high. Chop up chicken in chunky pieces. Add garlic, mushrooms, and onion, and cook until chicken is done. Add other vegetables, and saute for a few minutes. Add the seasonings. Add broth, wine, lemon juice, garbanzos, and water. Bring to a boil, add lid and cook for an hour or more over low to medium heat with lid on. Serves a crowd, or makes great leftovers!
Wine Country Chicken Salad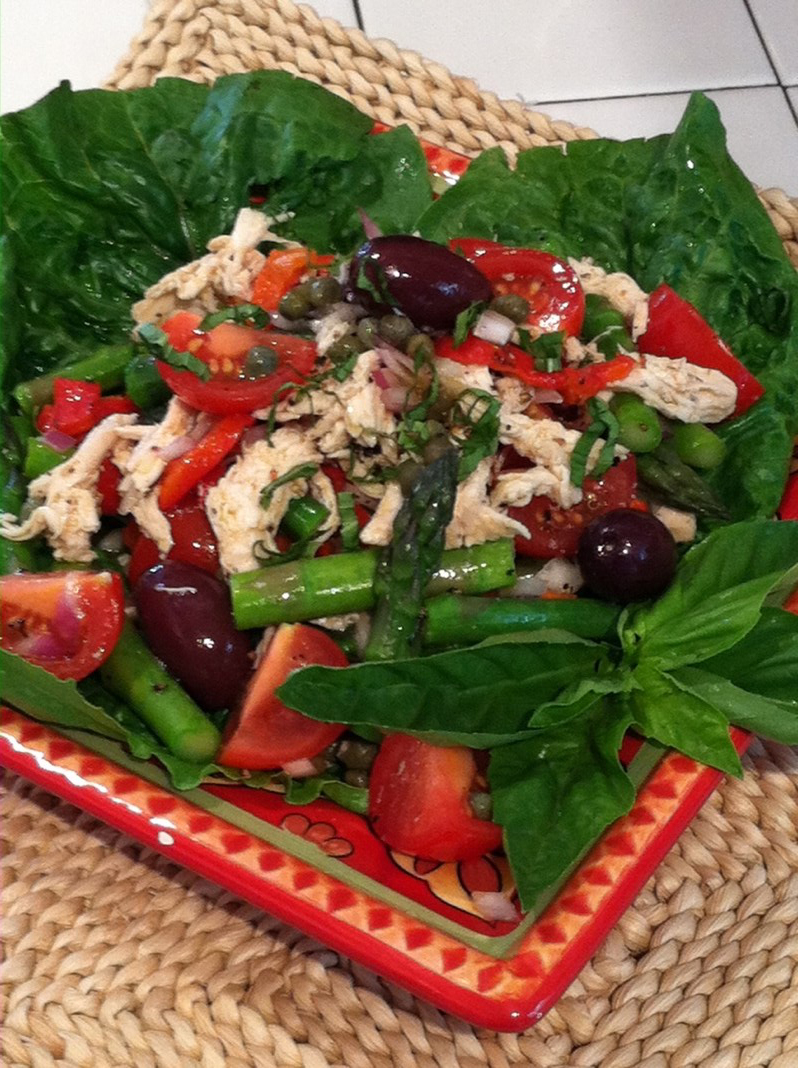 Salad
3 cups chicken stock or water
2 free-range chicken breasts or thighs
½ lb thin asparagus, cut into 2" pieces
½ cup Nicoise or any type of black olives, pitted
10 cherry tomatoes, halved
2 Tbsp capers, drained
A handful finely chopped fresh basil
¼ tsp black pepper, sea salt
Parmigiana Reggiano
Dressing
½ cup extra virgin olive oil
1 medium shallot minced
2 generous tsp finely chopped fresh thyme
1 Tbsp or more finely chopped fresh parsley
¼ cup fresh lemon juice (1 medium lemon)
Directions
Cook chicken in the stock for 10-12 minutes until tender and done. Cool chicken in the liquid, drain and shred the chicken. Set aside. Cook asparagus for 3-4 minutes until tender but still firm . Drain and cool under cold water.
Add olives, tomatoes, capers, basil and pepper to the chicken and stir to combine.
Mix the ingredients for dressing and add to the salad mixture. Toss gently to combine. Arrange on a bed of organic baby greens, arugula, Bibb lettuce, or romaine lettuce. Garnish with Parmigiana Reggiano. Using a vegetable peeler, shave a few thin pieces onto the salad.
This salad can be prepared up to 6 hours ahead of time and refrigerated. Add the dressing just prior to serving.  Serves 2-4, depending on appetites.