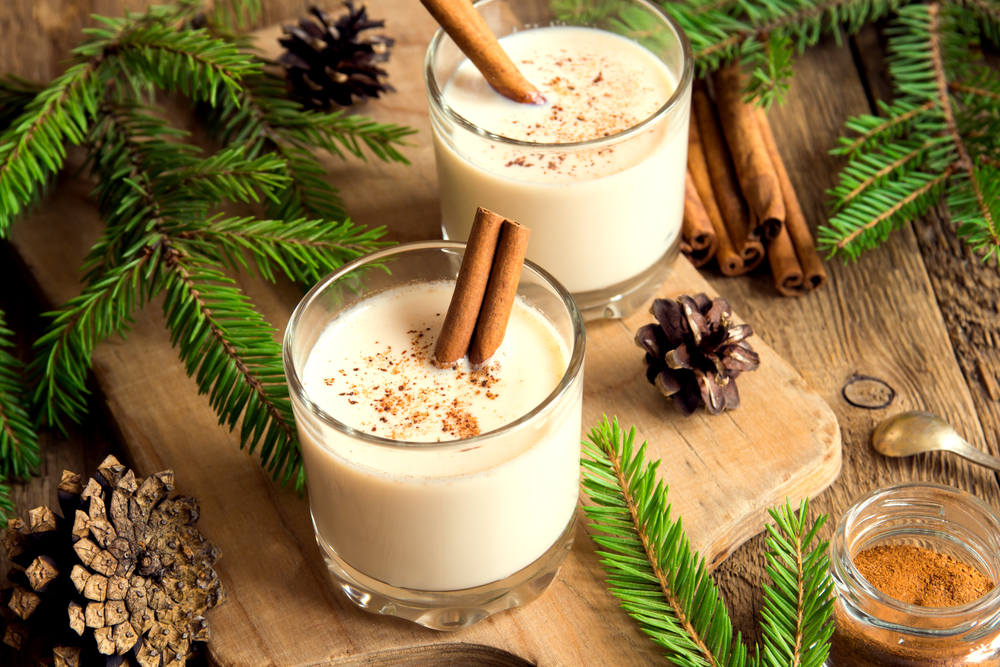 Can be made to be "keto-friendly" too
By: Mike Geary 
Co-author of the best-sellers:  The Fat Burning Kitchen, The Top 101 Foods that Fight Aging & The Diabetes Fix
I don't know about you, but my family and I really LOVE egg nog during the holiday season…it's one of those mini-traditions for a lot of people.  Heck, I like egg nog ANY time of year, and not just during the holidays.
However, most egg nog that you buy at the store is NOT good for you, and is loaded with excess sugar (usually corn syrup), additives, and also cheap factory-farm raised milk and cream from grain-fed animals.  I'm going to show you in this post and recipe that it IS possible to make a truly healthy egg nog, with REAL health benefits!
Now, I will make sure to make this disclaimer up front… just because this is a healthier recipe for egg nog, does NOT mean that it's low calorie… it's still VERY dense in calories, and you know what…that's just fine with me.  The way we make this actually is fairly nutrient-rich, and lower in sugar, so as long as you control your quantities, I'm not concerned if it's a calorie-dense food per se, because it's also nutrient-dense, and full of healthy fats, which helps to control your appetite and balance your hormones and blood sugar.
Whenever I modify a traditional recipe to make it healthier, I look at every single ingredient and ask myself if I can substitute a healthier version, and I also always look for ways to reduce the sugar content of something, and also use natural sweeteners (such as stevia, honey, maple syrup and/or coconut sugar) that have at least a bit more nutrients than just refined white sugar.
In my healthy egg nog recipe below, I use pasture-raised egg yolks loaded with nutrients such as DHA, EPA, choline, vitamins A, D, E, and K, lutein, and lots of minerals… I also use grass-fed heavy cream, which is rich in belly fat fighting CLA fats, a balanced omega-3 to omega-6 ratio, highly bioavailable vitamin A, and also that vitally important vitamin K2, which is shown to reduce heart disease risk, and is hard to find in many foods.
In addition, I reduce the amount of sugar by using a blend of stevia and maple syrup as the sweeteners, instead of refined white sugar.  If you want a ketogenic or "keto" version of this recipe, simply omit the maple syrup and use only natural non-caloric sweeteners like stevia and monk fruit extract.  I've recently found a really good zero-calorie monk fruit sweetener on ThriveMarket that blends monk fruit and erythritol, both of which are natural sweeteners, and not artificial.
I also boost the protein a bit too in this healthy egg nog recipe, compared to typical egg nog.
Lastly, even for somebody that's lactose or casein intolerant, keep in mind that the fat portion of dairy is usually still fine for these people, because heavy cream only has trace amounts of casein or lactose, and is not usually a problem if you avoid using milk and just stick to heavy cream.
All of these changes really do make a truly healthy egg nog that my family and I feel good about drinking… and it's incredibly tasty too!
If you're the type that wants to add some rum, go for it, but I personally prefer the taste of egg nog without any alcohol in it, as the alcohol tends to overpower the taste of the egg nog for me.
Here's the recipe I created:
Healthy Egg Nog (reduced sugar, loaded in healthy fats and nutrients)
Ingredients (makes approx 4 servings)
1 cup heavy cream (pasture-raised preferable, or organic at least; Organic Valley and Kalona are great grass-fed brands we've found)
1 cup of any milk (either organic non-homogenized milk, or almond or coconut milk if you prefer.  If you're lactose or casein intolerant, you might try the mix of heavy cream and almond or coconut milk as the best option, and avoid using cows milk.  I personally used a raw pasture-raised goat milk here that I got from a local farmer)
3-4 egg yolks
1 tsp nutmeg
1 tsp vanilla extract
2 Tbsp REAL maple syrup (organic and grade B preferred due to higher nutrients than grade A; Can also use 2 tbsp coconut sugar if you prefer instead of maple syrup)
2-3 packets of stevia or monk fruit to desired sweetness (If you want this recipe to be Keto, omit the maple syrup and use any stevia blend or monk fruit sweetener blend to taste)
1 scoop of your favorite naturally-sweetened vanilla protein (this is one of my personal favorite vanilla proteins that does NOT use artificial sweeteners AND is made from grass-fed whey, which is hard to find; You can try a FREE bottle at that link too)
Instructions:
Some recipes call for you to cook the egg nog, and other recipes just do a raw egg nog.  I chose to make this one raw, because I'm personally not afraid of raw egg yolks, and have never once gotten sick in my entire life from raw egg yolks, as the risk of pasture raised egg yolks containing salmonella is very slim compared to factory farmed egg yolks, which has a higher risk, although still low.
Plus, when you cook egg yolks, you oxidize some of the cholesterol, making it a little bit less healthy, so that's another reason we chose to make this egg nog raw instead of cooked.  Honestly, the taste is better raw  in my opinion too.
However, if you're at all concerned about eating uncooked egg yolks, you can always follow any recipe for egg nog that cooks the egg nog, but just use these ingredients I show in this one.
To make this raw egg nog is very simple…
Place all of the ingredients above in a blender and blend for about 30-60 seconds.  You're done!  It's incredibly delicious and as you saw in my description in the intro of this blog, it's actually loaded with beneficial nutrients, lower in sugar than most egg nog, and higher in protein!
Here's a couple more great recipes from the Paleohacks blog if you're looking for more awesome ideas for healthy treats:
>  Paleo egg nog cupcakes recipe (whoa this is good!)
Paleo Coconut flour shortbread cookies (wow, soooo tasty!)