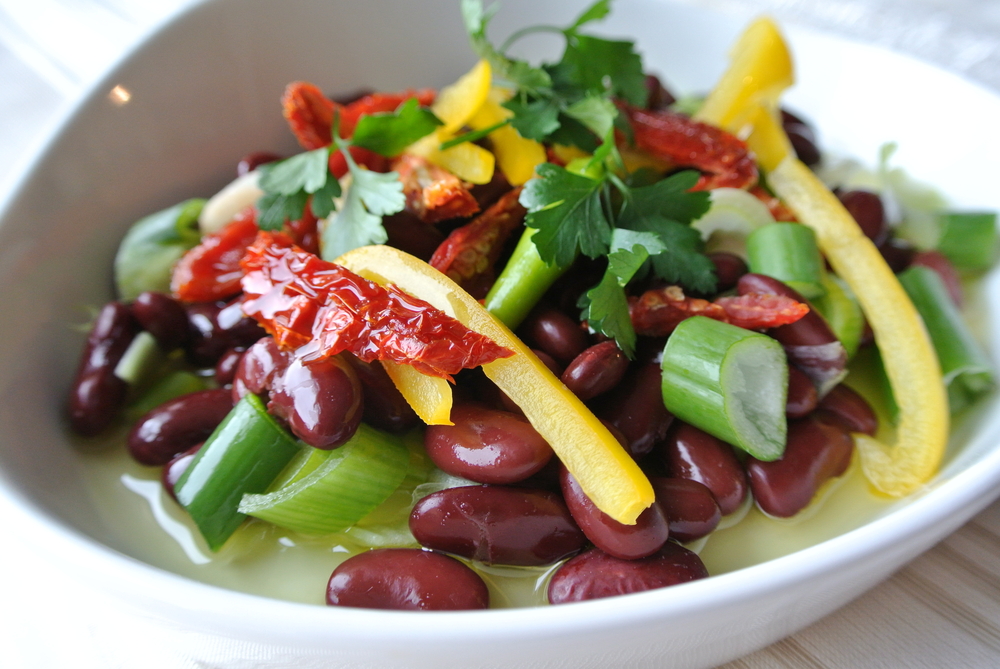 By: Cat Ebeling 
Co-author of the best-sellers:  The Fat Burning Kitchen, The Top 101 Foods that Fight Aging & The Diabetes Fix
A couple of years ago, I visited Belize, and my favorite place there was a place called Maya Beach Resort. It had a fantastic restaurant right on the beach. This salad was so good, I must have ordered it five or six times while I was there. This salad is 'da bomb!
The veggies and black beans are all chock full of antioxidants and super nutrients that fight disease, as well as adding tons of low glycemic fiber to make you feel satisfied, while maintaining low blood sugar that not only prevents or fight diabetes, but also helps you lose weight. This is the perfect salad for a light meal. For extra protein, just throw in a little chopped chicken or shrimp for the perfect healthy low-glycemic meal. You will be full of fat-burning energy after you eat this tasty salad!
Here is my rendition of the Maya Beach Chopped Salad.
Ingredients
2 Roma tomatoes, chopped in small pieces
½ Red bell pepper, sliced thinly
2 Tomatillos, chopped
1 English cucumber cut in slivers
2-3 stalks of celery, sliced thinly
½ to 1 sweet vidalia or maui onion, chopped
1 medium sized jicama, chopped in small pieces
1 cup snow peas, sliced diagonally in thin slices
1 can black beans, drained and rinsed
Big handful of parsley or cilantro, chopped
Juice of one lemon or lime
1-2 Tbsp of Extra virgin olive oil
Touch of honey
Sea salt and pepper, to taste
½ cup cooked chicken or small shrimp
Sprinkle of hot pepper flakes, to taste
Directions
Chop or slice up all veggies
Sliver Jicama
Mix equal parts lemon juice and olive oil, add a touch of honey to taste, stir into salad. May be made ahead and chilled or served immediately.
You should also know that this recipe is an almost perfect low-glycemic snack for Diabetics, due to it's blend of fiber, healthy fats, antioxidants, and a reasonably low amount of sugars and carbs that impact blood sugar.  Speaking of Diabetes, make sure to read this page next:
1 Simple trick to REVERSE your Diabetes (hint: it's NOT cinnamon or any supplement)