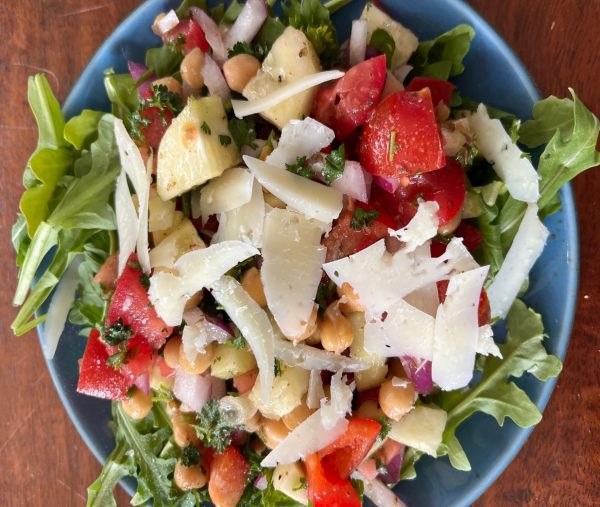 By: Cat Ebeling, RN, MSN-PHN, co-author of the best-sellers:  The Fat Burning Kitchen, The Top 101 Foods that Fight Aging & The Diabetes Fix
This delicious salad has the best of summer in it!
Cucumbers that hydrate your cells to reduce wrinkles, arugula which is full of folate to boost your mood, cancer-fighting antioxidants and fiber, tomatoes which contain lycopene to protect your skin from sun damage, red pepper which contains lots of vitamin C to work with collagen diminishing wrinkles and fighting aging, parsley that contains magnesium—important for over 300 enzymatic reactions in the body, and red onion, full of immune fighting quercetin.
Enjoy this salad for lunch or as an accompaniment with grilled chicken or grass-fed burgers. Your skin and body will thank you!
Ingredients
Arugula greens
1 red pepper – cut to bite size pieces
1 half red onion – cut to bite size pieces
2 Roma tomatoes – cut to bite size pieces
1 medium cucumber – cut to bite size pieces
1 can of garbanzo beans, more or less
Juice of half a fresh lemon
Handful of fresh parsley – chopped fine
Handful of fresh basil leaves or other fresh herbs – chopped fine
2-4 T Primal Greek dressing or mix your own with extra virgin olive oil, balsamic or wine vinegar, herbs, and a pinch of sugar
Pecorino, Parmigiana or feta cheese, crumbled or shaved
Sea salt and pepper
Directions
Chop all veggies and herbs except arugula.
In a large bowl, mix vegetables with garbanzos, lemon juice and dressing.
Arrange arugula on plate and spoon vegetable mix over the greens.
Top with shaved or crumbled cheese. Add salt and pepper if desired.
Serves 2-4 people.