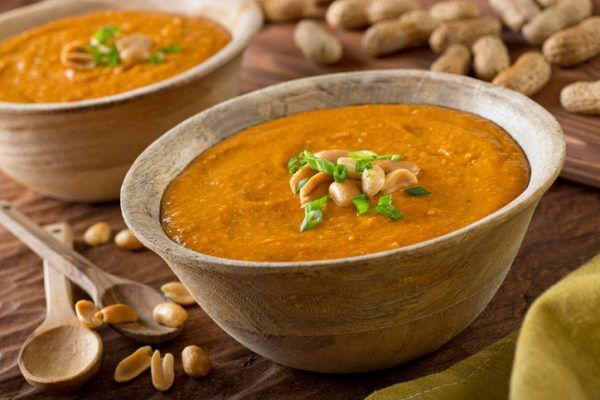 By: Cat Ebeling, RN, MSN-PHN, co-author of the best-sellers:  The Fat Burning Kitchen, The Top 101 Foods that Fight Aging & The Diabetes Fix
I was fortunate to have the opportunity to visit Zambia, Zimbabwe, and Botswana recently. Africa is amazing–from the wild animals, to the polite and polished people, to breathtaking landscapes, sunsets, and delicious, healthy food. One thing I noticed was that there were few obese or overweight people where I was. The large markets in town were overflowing with fresh brightly colored carrots, tomatoes, squashes, and tons of greens of all different types and there were no signs of unhealthy 'fast food' restaurants.
One of the specialties of Africa is a peanut stew. This peanut stew is the perfect, healthy, comforting, warm, satisfying meal that you can make in one pot. It includes plenty of super-food ingredients such as ginger, onions, jalapeno, peanuts, sweet potatoes, and collard greens. It is packed with antioxidants and nutrition!
Peanuts can be an especially great source of healthy fats, protein and fiber. Most of the fats in peanuts are monounsaturated and polyunsaturated fatty acids, which are a healthful type of fat.
Peanuts also contain a healthy supply of potassium, phosphorus, magnesium, manganese, niacin, folate, and thiamin.
Peanuts contain lots of healthy fiber which helps improve cholesterol levels, lower the risk of heart disease, maintain a healthy gut, and helps to fill you up and feel satisfied.
Peanuts do have a beneficial relationship with your gut bacteria, and gut health in general. Did you know that adding probiotics helps them survive passage through the gut?
Peanuts also promote the growth of beneficial bacteria, inhibits the growth of pathogenic bacteria, and reduce the ability of harmful bacteria to invade host cells.
Peanuts are nutrient rich but low in carbohydrates, making them a great option for anyone trying to keep blood sugar low, including diabetics and anyone trying to lose weight.
Raw peanuts with the skin on are the healthiest form to eat—avoid those kinds that come in a can, roasted with (unhealthy) soybean oil and covered in salt. Peanut skin contains antioxidants, as well as additional fiber.
Research has found that women who eat nuts, including peanuts, at least twice a week had a lower risk of weight gain over 8 years than those who rarely ate nuts.
And this large-scale study found that nuts and peanuts may reduce a person's risk of obesity over 5 years.
Peanuts are an excellent food for people with diabetes or a risk of diabetes. Peanuts have a low glycemic index (GI), meaning they do not cause big spikes in blood sugar levels.
Risks and considerations for peanuts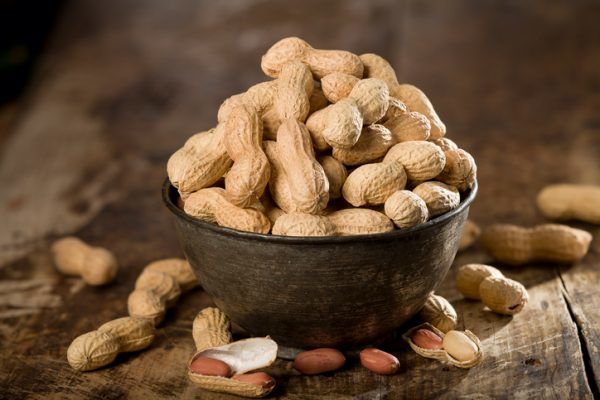 Peanuts do contain proteins called arachin and conarachin. Some people can have severe allergic reactions to these proteins. For other people, peanuts can cause a milder allergic reaction, but peanuts are also guilty of exacerbating asthma in many people. If you are in either group, it's best to avoid peanuts.
Peanuts grow in the ground and are exposed to more fungus from the soil. One of the fungi produces a mycotoxin called "aflatoxin". During storage, aflatoxins can continue to grow and multiply. In large amounts, aflatoxins can increase the risk for live cancer, especially for people with existing liver disease such as hepatitis. To reduce the risk of aflatoxins, eat Valencia peanuts which are grown in drier climates and more resistant to fungus. Eating green plant foods also protects against aflatoxins, as does eating protein. Roasted peanuts and peanut butter also reduce most of the aflatoxins in peanuts.
Peanuts also contain a substance called "agglutinin" which is a type of lectin found in some legumes. Peanut agglutinin has nothing to do with gluten which is found in wheat, rye and barley. However, peanut agglutinin can aggravate existing cancer, but does not contribute to the development of cancers.
Overall, peanuts are good for your health and actually lower the risks of many cancers, diabetes, and heart disease, so enjoy this African peanut stew and its health benefits.
One-Pot African Peanut Stew
Ingredients
• 1-2 Tablespoons of grass fed butter
• 1 medium sized red onion, finely chopped
• ¼ to ½ teaspoon of red pepper flakes—be careful, red pepper gets hotter when cooked
• 4-6 garlic cloves, minced
• 2-inch knob fresh ginger, peeled and minced (about 2 tablespoons)
• ½ sweet red pepper, chopped
• 2 teaspoon cumin
• 3 tablespoons tomato paste
• 1 large (1-lb) sweet potato, peeled and cut into 1-inch cubes (about 2 cups)
• 1/2 cup unsweetened organic peanut butter
• 4 cups chicken or vegetable broth
• 1 cup water
• 1 bunch collard greens, stems removed and chopped
• Fresh cilantro, chopped, roasted peanuts and lime juice for serving
Directions
In a large pot over medium heat, melt the butter. Add the onion and red pepper, sprinkle with salt and cook for 3 minutes, until translucent. Add the garlic, ginger, cumin and red pepper flakes then stir together and cook for about 2 minutes.
Next add the tomato paste and stir together. Add the sweet potato, peanut butter, broth and water. Stir together then bring to a boil. Reduce heat to medium-low, cover and cook for 15 minutes. Add the chopped collard greens to the pot, stir, then cover and continue to cook for another 15 minutes, until sweet potato is tender.
Using the back of the spoon or hand potato masher, mash some of the sweet potato to help thicken the broth. Boil uncovered for 5 minutes. Serve warm and garnish with cilantro, peanuts, and lime juice. Enjoy!
Makes 4-6 servings.
Looking for easy, tasty recipes that help you burn fat, then look no further…
This free recipe book is packed with over 80 fat-burning Keto recipes, such has mouth-watering chicken, beef, pork meals and more…
Best yet, every single recipe uses a slow cooker. Spend less than 20 minutes in your kitchen whipping up these delicious meals.