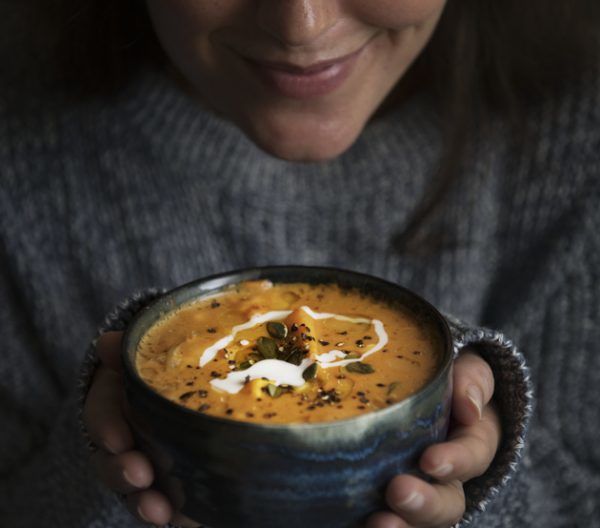 By: Cat Ebeling, RN, MSN-PHN, co-author of the best-sellers:  The Fat Burning Kitchen, The Top 101 Foods that Fight Aging & The Diabetes Fix

It's that 'pumpkin' time of year again, but really pumpkin is good just about any time of the year in my opinion. Fresh pumpkin is most plentiful in the fall in the Northern Hemisphere, but you can buy it most any time of the year as canned pumpkin.  It works just as well as fresh pumpkin in soups, stews and smoothies.
Have you ever noticed that in the fall there are a lot of vegetables that are orange, red or yellow colored? Pumpkins, squashes, carrots, beets and sweet potatoes are all heavy on healthy antioxidant. These foods also contain alpha carotene, and beta-cryptoxanthin, which protect your cells and keep them healthy.
The powerful antioxidant, beta carotene not only turns into vitamin A in the body, but also protects against heart disease, cancer and diabetes. Pumpkin contains both vitamin C and vitamin A that help to strengthen the immune system—which is perfect timing for protection against colds and flu. Pumpkin's powerful antioxidants also help to fight cancer.
That vitamin A from pumpkin also helps to strengthen the eyesight and protect against diseases like macular degeneration. Beta-carotene also helps prevent diabetes, along with the healthy fiber that pumpkin contains, which is low glycemic, keeping blood sugar low.
The fiber and rich taste of pumpkin are also very filling without being fattening. The low-glycemic attributes of pumpkin help to keep the body in fat-burning mode—not fat-storing mode. And pumpkin's natural fiber helps to feed those healthy bacteria in the gut, while increasing your brain's level of serotonin, the 'feel good' brain chemical.
Beta carotene also protects the skin against sun damage making it a healthy way to 'eat your sunscreen', and it also promotes younger, smoother, healthy-looking skin.
Pumpkins also contain plenty of potassium which balances out sodium and helps to decrease blood pressure. Increased potassium also reduces your risk of strokes, protects against heart disease, and helps the body to preserve bone density.
Pumpkin is the perfect vegetable to add to soup. It adds a satisfying richness and creaminess along with its healthy additives. This creamy version also contains cauliflower puree to add to the thickness and creaminess without adding dairy, making it a perfect low carb soup. The added sausage makes it high in protein, along with the kale to round out its amazingly healthy ingredients.

Ingredients
• 1 Tablespoon olive oil
• 2-4 cloves garlic, chopped
• 1 small onion chopped
• 1 lb turkey, chicken or pork Italian sausage, remove casings
• 1 red pepper chopped
• 15 oz can pure organic pumpkin puree
• 2 cups baby or dinosaur (lacinto) kale chopped
• 1/2 teaspoon sea salt
• 1/4 teaspoon pepper
• 4 cups chicken bone broth
• 2 cups cauliflower, chopped
• 1 Tablespoon butter (grass-fed)
• ½ teaspoon nutmeg
• 1 teaspoon thyme
• Feta cheese for garnish
Instructions
In a soup pot, add olive oil and brown the sausage, breaking up into smaller pieces. Add garlic, onion, peppers, salt and pepper and sauté for a few minutes.
Add the pumpkin, broth, and kale and continue to cook for a 5 or so minutes.
While pumpkin mixture is cooking, chop the cauliflower into fine pieces in a food processor, and cook 10 minutes with some butter and about a ¼ cup of water until soft. Let cool for a few minutes and add back to food processer and blend until smooth. Add cauliflower mixture to the soup and mix well.
Cook for an additional 5 minutes. Garnish with feta cheese if desired. Makes about 6-8 servings. Enjoy any time of the year!
Looking for easy, tasty recipes that help you burn fat, then look no further…
This free recipe book is packed with over 80 fat-burning Keto recipes, such has mouth-watering chicken, beef, pork meals and more…
Best yet, every single recipe uses a slow cooker. Spend less than 20 minutes in your kitchen whipping up these delicious meals.