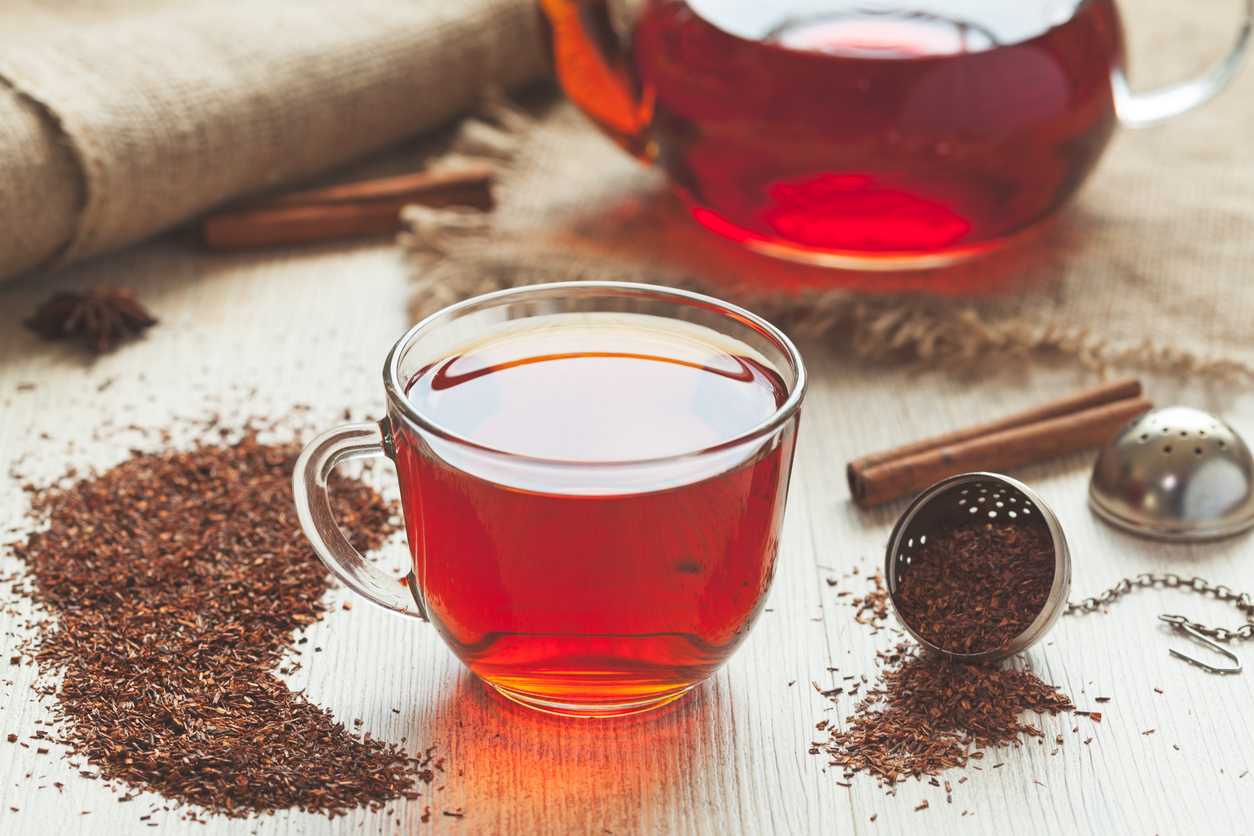 By: Catherine Ebeling 
Co-author of the best-sellers:  The Fat Burning Kitchen, The Top 101 Foods that Fight Aging & The Diabetes Fix
Rooibos tea is gaining popularity around the world as a delicious, healthy, and calming drink. Rooibos tea comes from deep in South Africa, and it has been used for centuries for good health amongst the Africans—and for good reason!
Rooibos (pronounced Ruy-bos) has been shown to protect against cancer, reduce inflammation, help prevent heart disease, lower blood pressure, and even calm babies. And because it does not contain caffeine, like green and black tea, it is a safe and soothing drink to have before bedtime, and you can drink as much as you want. Many South Africans drink 5-6 cups of Rooibos a day.
One of the best health benefits of Rooibos is its mineral content including magnesium, which is essential for so many people who are deficient in the mineral. Magnesium is calming to the nervous system and the blood vessels, helping to regulate heart beat, and lower blood pressure. It also contains calcium, zinc and manganese which are vital for bones and teeth, as well as iron, which helps to supply red blood cells and oxygen to the body. One of the wonderful things about getting  your minerals from a natural food is that they all exist in perfect balance to help you absorb them best. The magnesium helps you absorb the calcium and the copper helps you absorb its iron.
Black, green and rooibos tea all contain polyphenols—the powerful antioxidants that make tea the super-powered drink that it is. But, rooibos tea contains almost 50% more polyphenols than even green tea! Two of the polyphenols that are found in high concentrations in rooibos are aspalathin, and nothogagin, as well as quercetin. These antioxidants fight free radicals which are the unstable cells that can cause disease. Aspalathin is only found in rooibos!
Aspalthin has been found to be full of anti-cancer compounds—so much so that the Cancer Association of South Africa has officially recognized it as one of the leading sources of cancer-fighting substances. In one study done on mice with cancer, the cancer disappeared in the mice who drank rooibos instead of water! Another study found that applying Rooibos compound to mice with skin cancer reduced tumors by 70%. Rooibos is so effective that many cosmetics and skin care products are starting to add it to their products.
Rooibos' benefits go far beyond just preventing cancer. Rooibos tea contains a flavonoid called chrysoeriol that improves blood circulation. A Swedish study shows that it helps to inhibit ACE, a physical chemical that constricts blood vessels and is linked to blood pressure. One of the key factors in detecting heart disease has to do with two blood markers that indicate inflammation in the blood vessels. Study participants who drank 6 cups of Rooibos a day for six weeks showed a 50% reduction!
Rooibos' powerful antioxidants also reduce inflammation which is the root cause for many diseases including heart disease, cancer, arthritis, Alzheimier's and diabetes. Rooibos works better than one of the most powerful pharmaceutical pain relievers, Vioxx—without the dangerous side effects.
Rooibos is very calming to the digestive system—in fact, Rooibos is so gentle and soothing that many mothers in South Africa use the tea to soothe colic in babies. The quercetin it contains makes it also good for indigestion, stomach cramps, and upset stomach for grownups as well.
Most of the Rooibos tea that we see in the U.S., is the fermented type, which makes it appear reddish-brown. Unfermented green rooibos tea is also available, although more difficult to find, but it does contain higher levels of antioxidants. Red Rooibos has a delicious, light, nutty and sweet flavor and you can purchase it loose or in tea bags. Let the brew steep for 5 minutes or more to get its full strength effect. By the way, adding milk to tea can reduce the availability of certain antioxidants, so it is better to drink plain or with just a touch of honey or organic maple syrup.
Here's a really interesting rooibos recipe from my friend and fitness expert, Danette May, that I think you'll LOVE…
Healthy Vanilla Coconut Rooibos Tea (crushes cravings for sweets while delivering large amounts of antioxidants)
References:
Baba H. (March, 2009). Studies of anti-inflammatory effects of Rooibos tea in rats. Pediatr Int. 51(5):700-4. doi: 10.1111/j.1442-200X.2009.02835.x. Retrieved from http://www.ncbi.nlm.nih.gov/pubmed/19419525
Hong IS1. (January, 2014). Anti-oxidative effects of Rooibos tea (Aspalathus linearis) on immobilization-induced oxidative stress in rat brain. PLoS One. Retrieved from http://www.ncbi.nlm.nih.gov/pubmed/24466326
Komatsu, Kator, Mitsuda, Mine, Okumura.( (February, 1994). Inhibitory effects of Rooibos tea, Aspalathus linealis, on X-ray-induced C3H10T12 cell transformation. Retrieved from http://www.sciencedirect.com/science/article/pii/0304383594903441
Marnewick JL. (November, 2000). An investigation on the antimutagenic properties of South African herbal teas. Mutat Res.;471(1-2):157-66. Retrieved from http://www.ncbi.nlm.nih.gov/pubmed/11080671
Marnewick J.(December 2014). Inhibition of tumour promotion in mouse skin by extracts of Rooibos (Aspalathus linearis) and honeybush (Cyclopia intermedia), unique South African herbal teas. Retrieved from http://www.ncbi.nlm.nih.gov/pubmed/15914270
Persson, I.A., et al. (February, 2010). Effects of green tea, black tea and Rooibos tea on angiotensin-converting enzyme and nitric oxide in healthy volunteers. Retrieved from https://www.researchgate.net/publication/41418670_Effects_of_green_tea_black_tea_and_Rooibos_tea_on_angiotensin-converting_enzyme_and_nitric_oxide_in_healthy_volunteers
Sears, A., M.D., (2016). Rooibos, better than green tea for many reasons. Al Sears MD. Retrieved from http://www.alsearsmd.com/2016/05/rooibos-better-than-green-tea-for-many-reasons/