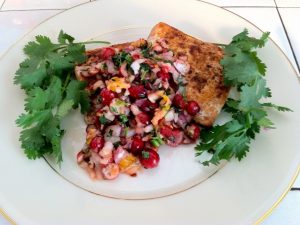 By: Cat Ebeling 
Co-author of the best-sellers:  The Fat Burning Kitchen, The Top 101 Foods that Fight Aging & The Diabetes Fix
Cranberries contain some of the highest amounts of antioxidants of any berry, and have some fantastic health benefits as well! Compared to 19 other common fruits, cranberries were found to contain the most antioxidants and free-radical scavenging capabilities. Higher antioxidant levels mean less risk of cancer, Alzheimer's, heart disease, arthritis, and many other diseases.
Fresh cranberries, which contain the highest levels of nutrients and phytochemicals, show up around Thanksgiving and add their bright red festive hue, tart tangy flavor and numerous health benefits to holiday meals. Right now, you can still pick up fresh cranberries at your grocery store, but they are only in season for a few months of the year, so grab some now!
Cranberries and cranberry juice have been known to fight urinary tract infections, but these powerful little berries also help prevent kidney stones, fight cancer, lower cholesterol and boost the immune system.
Cranberries powerful compounds can actually disable the dangerous E.coli bacteria, meaning it can not only fight some infections, but it can also help prevent food poisoning. Cranberries can also help fight infections in the digestive system and help fight off viruses that cause the 'flu'.
We all know that probiotics are great for gastrointestinal health, but cranberries benefit the healthy probiotics that grow in the digestive tract, while killing off the harmful bacteria such as Listeria (responsible for food poisoning) and h.pylori (responsible for gastric ulcers).
Cranberries also contain a substance called quinic acid, which is compound that causes the urine to be more acidic, preventing kidney stones. What's more, cranberries reduce and break down calcium in kidney stones.
Cranberries also reduce harmful LDL and raise HDL cholesterol. In one study, participants' HDL increased an average of 10% after drinking three glasses of cranberry juice per day–an increase that corresponds to about a 40% reduction in heart disease. Cranberries also improve blood vessel function, so they can help individuals who already have atherosclerosis (clogging of the arteries).
Cancer fighters–new substances found in cranberries are showing to be highly toxic to a cancer tumor cells, according to a study from Cornell University.
Choose fresh plump cranberries, deep red in color, that are firm to the touch.
Firmness is a primary indicator of quality and freshness. The deeper red their color, the more highly concentrated the healthy phytochemical compounds.
Ingredients
2-4 wild caught salmon fillets (sockeye salmon is my favorite for this)
Jerk seasoning (I used a pre-made powdered rub)
1 cup fresh cranberries, chopped, or lightly processed in food processor
½ small red onion
1 orange or blood orange, peeled, sectioned and cut in smaller pieces
Juice of half a lime
¼ cup chopped cilantro
1 tsp honey
Sea salt
Hot pepper flakes, to taste
Directions
Chop cranberries roughly by hand or in a food processor (just enough to chop but be careful not to turn them to mush), and mix with orange, onion, lime juice, cilantro and hot pepper flakes.
Season the salmon with jerk seasoning, and grill or broil till tender and flaky.  Serve topped with cranberry mixture. Enjoy!  Serves 2-4.
You should also know that this recipe is an almost perfect low-glycemic snack for Diabetics, due to it's blend of fiber, healthy fats, antioxidants, and a reasonably low amount of sugars and carbs that impact blood sugar.  Speaking of Diabetes, make sure to read this page next:
1 Simple trick to REVERSE your Diabetes (hint: it's NOT cinnamon or any supplement)