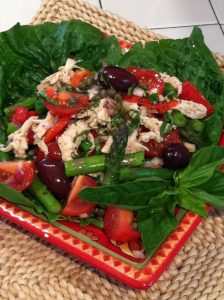 By: Cat Ebeling
Co-author of the best-sellers:  The Fat Burning Kitchen, The Top 101 Foods that Fight Aging & The Diabetes Fix
Nothing says 'summer' like fresh basil—any time of the year! I love the taste of fresh basil-it's subtle taste adds a new dimension to foods, cooked or raw. Fresh basil is generally available year-round at the grocery and is easy to grow in warmer weather. Basil is one of those powerful herbs that contain medicine-like properties. One of basil's active ingredients is something called eugenol. Eugenol is an anti-inflammatory substance that lends its healing benefits to those with inflammation like arthritis and helps prevent serious diseases like heart disease and diabetes.
Both basil and fresh thyme in this recipe contain precious volatile oils that actually have been scientifically proven to kill bacteria that can get into food, like Staphylococcus aureus, E.coli and Shigella. Adding these two herbs to your foods helps prevent many types of foodborne illnesses and dangerous bacterial growth that can get into food. In addition, thyme contains an ingredient called thymol. Thymol actually helps to increase the amounts of healthy omega 3 fats that get into cell membranes. So, when you eat thyme with omega 3 fats, your body will actually absorb more omega 3's. That means Thyme protects your cells, fights aging, and improves your mood as well!
Adding in generous amounts of asparagus help to provide an excellent prebiotic to feed your healthy gut bacteria, plus tons of healthy vitamins and cancer fighting compounds, along with the olives which are full of antioxidants and healthy fats.  This salad is a winner—for your health and your tastebuds. It's absolutely delicious!
Salad
3 cups chicken stock or water
2 free-range chicken breasts or thighs
½ lb thin asparagus, cut into 2" pieces
½ cup Nicoise or any type of black olives, pitted
10 cherry tomatoes, halved
2 Tbsp capers, drained
A handful finely chopped fresh basil
¼ tsp black pepper, sea salt
Parmigiana Reggiano
Dressing
½ cup extra virgin olive oil
1 medium shallot minced
2 generous tsp finely chopped fresh thyme
1 Tbsp or more finely chopped fresh parsley
¼ cup fresh lemon juice (1 medium lemon)
Directions
Cook chicken in the stock for 10-12 minutes until tender and done. Cool chicken in the liquid, drain and shred the chicken. Set aside. Cook asparagus for 3-4 minutes until tender but still firm . Drain and cool under cold water.
Add olives, tomatoes, capers, basil and pepper to the chicken and stir to combine.
Mix the ingredients for dressing and add to the salad mixture. Toss gently to combine. Arrange on a bed of organic baby greens, arugula, Bibb lettuce, or romaine lettuce. Garnish with Parmigiana Reggiano. Using a vegetable peeler, shave a few thin pieces onto the salad.
This salad can be prepared up to 6 hours ahead of time and refrigerated. Add the dressing just prior to serving.  Serves 2-4, depending on appetites.
Looking for easy, tasty recipes that help you burn fat, then look no further…
This free recipe book is packed with over 80 fat-burning Keto recipes, such has mouth-watering chicken, beef, pork meals and more…
Best yet, every single recipe uses a slow cooker. Spend less than 20 minutes in your kitchen whipping up these delicious meals.