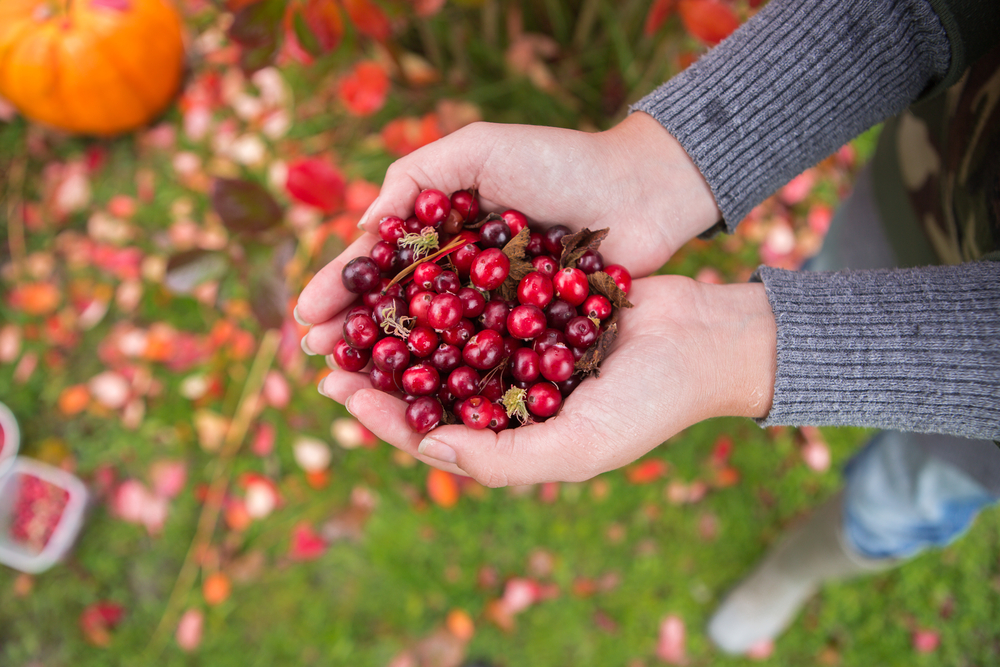 By: Cat Ebeling & Mike Geary
Co-authors of the best-sellers:  The Fat Burning Kitchen, The Top 101 Foods that Fight Aging & The Diabetes Fix
The powerful health benefits of cranberries, including urinary tract health, digestion, cancer fighting, etc
I just picked up a bag of fresh cranberries at the store and started thinking about this amazing little round berry that is spotlighted this time of year. Turns out it has some truly amazing properties! These bright red, VERY tart berries, are related to blueberries,  and they, too, that they are packed with amazing antioxidants and super nutrients!
Native Americans actually ate cranberries cooked and sweetened with honey or maple syrup—the beginnings of the traditional cranberry sauce, as we know and love.  Cranberries were also used as a red dye, but more importantly–as a medicine, they were used as a poultice for wounds and for preventing infections. The powerful tannins in them help to contract the tissues and stop bleeding, and some of the compounds in cranberries also contain some powerful antibiotic effects as well.
Cranberries and Digestion
Cranberries and cranberry juice have a reputation for helpful in preventing or treating urinary tract infections.  The most recent studies now suggest that this little red superberry is beneficial for the gastrointestinal tract, prevents cavities, helps prevent kidney stones, aids in recovery from strokes, prevents cancer, and lowers LDL (bad) cholesterol and raises HDL (good) cholesterol.
Compounds in cranberry juice can actually disable the dangerous E. coli bacteria–even the antibiotic-resistant strains. E. coli, is actually a class of powerful microorganisms that are responsible for a wide variety of illnesses that can run the gamut from urinary and kidney infections, to gastroenteritis (nausea and vomiting), and even tooth decay. These bacteria are altered by particular tannins (called proanthocyanidins) that are found in cranberries. The tannins actually prevent the harmful bacteria from adhering to our cells in the body, which is the first step in any infection.
Fighting Viruses
Cranberries are also pretty powerful fighting viruses—something that antibiotics just can't touch. Antibiotics can only fight bacteria. When researchers exposed three different viral species of E. coli and the GI-related rotavirus SA-11, to commercially available cranberry juice, the viruses were all completely neutralized. This type of response, however, is dose-dependent, and you have to drink at least 20% unsweetened, undiluted cranberry juice (Phytomedicine, January, 2007).
You know that probiotics are great for gastrointestinal health, but did you know that cranberries also benefit the healthy probiotics that grow in your digestive tract, while killing off more harmful bacteria such as Listeria (responsible for food poisoning) and h.pylori (responsible for gastric ulcers).
Also published in this same journal was a study noting that compounds isolated from cranberry juice actually prevent the major cause of tooth decay.  Of course, if you eat cranberries loaded with sugar, you will defeat that benefit, since sugar is responsible for the growth of tooth decay. Only blueberries had the same benefits, but their protection was much weaker.
Cranberries contain quinic acid, which is an acidic compound that is not broken down in the body, but actually comes out unchanged through the urine. Quinic acid causes urine to become slightly acidic, which is sufficient to prevent kidney stones from forming. In patients who have recurrent kidney stones, cranberry juice has been shown to reduce and break down calcium in the urine by more than 50%, and calcium is the primary substance of kidney stones.
Cholesterol and Antioxidants
Cranberries have also been shown to have a significant reduction in LDL cholesterol (the bad cholesterol), and increased HDL cholesterol. In one study, participants' HDL increased an average of 10% after drinking three glasses of cranberry juice per day–an increase that corresponds to about a 40% reduction in heart disease.
In this same study, subjects' overall antioxidant levels increased by as much as 121% after three servings of juice per day. Increased antioxidant levels are associated with a decreased risk of cancers, aging, Alzheimer's, and many other diseases, as well as heart disease. Cranberries also improve blood vessel function, so they can help individuals who already have atherosclerosis (clogging of the arteries).
These pretty, red, phytochemical powerhouses are packed with 5 times the antioxidant content of broccoli, and rank highest among most fruits and vegetables. Compared to 19 other common fruits, cranberries were found to contain the highest level of antioxidant phenols and the highest free-radical scavenging capacity of all of them! Cranberries were followed by by apples, red grapes, strawberries, pineapples, bananas, peaches, lemons, oranges pears and grapefruits.
Cranberries and Cancer
Several newly discovered substances in cranberries have been found to be toxic to a cancer tumor cells—including lung, cervical, prostate, breast and leukemia cancers. The same Cornell study that confirmed cranberries as having high levels of antioxidants also found that cranberries had the strongest ability to stop the spread of cancer cells, as well as stopping tumor growth.
Cranberries have a pretty short season—they are harvested between Labor Day and Halloween and show up in your grocery store around October through the end of December. Fresh cranberries, which contain the highest levels of nutrients and phytochemicals, arrive just in time to add their bright red festive hue, tart tangy flavor and numerous health benefits to holiday meals. When cranberry season is over, cranberries are available as cranberry juice, or dried or frozen.
How To Choose Cranberries
Choose fresh plump cranberries, deep red in color, that are firm to the touch.
Firmness is a primary indicator of quality and freshness. The deeper red their color, the more highly concentrated the healthy phytochemical compounds.
Fresh cranberries have more antioxidants than dried; organic undiluted cranberry juice contains a high amount of the beneficial compounds, and bottled cranberry drinks and cranberry cocktails with added sugars or low calorie sweeteners contain the least—plus you want to avoid the sugar and corn syrup added to these!  If you choose unsweetened cranberry juice, you can just add stevia to make it sweeter, but without the added sugar.
Fresh cranberries can be stored in your refrigerator or freezer for a few months. Once frozen, cranberries keep for over a year. Once thawed, frozen berries will be quite soft and should be used immediately in smoothies, pies or other dishes.
Dried cranberries are sold in many grocery stores as snacks. Look for dried cranberries without added sugars or oils if possible. For cancer prevention, it's better to eat whole cranberries, not just the cranberry juice.
You can take advantage of cranberries' tartness by substituting them for vinegar or lemon juice when dressing your green salads. Toss the greens with a little olive oil then add a handful of raw chopped cranberries. You can easily increase your intake by simply topping off a cup of yogurt or green salad with a half cup of cranberries—or try tossing them into your smoothie, or sprinkling over your cereal.
For an easy-to-make salad that will immediately become a favorite, place 2 cups fresh berries in your food processor, along with ½ cup of fresh pineapple chunks, a quartered skinned orange, an organic sweet apple (such as one of the Delicious variety) and a handful or two of walnuts or pecans. Blend till well mixed but still chunky. Dice 3-4 stalks of celery, add to the cranberry mixture and stir till just combined.
For a delicious drink, combine unsweetened organic cranberry juice with your favorite fruit juice and sparkling mineral water for a refreshing spritzer. If this is too tart, try it with a touch of stevia added as sweetener. Sprinkle a handful of dried cranberries over a bowl of hot oatmeal, barley, or any cold cereal.
Try this awesome recipe below for dinner…It's amazing!

Grilled Salmon with Fresh Cranberry Salsa
In a scene straight out of the TV cooking show series, "Chopped" I was looking to make something tasty for dinner and being in a hurry, I decided to just use what I could find in the fridge.
Hmm…an orange, cilantro, some fresh cranberries, and a piece of frozen wild caught coho salmon. Ok!
I decided to make salsa out of the cranberries and serve it with the salmon. I was delighted with how good it was! You will be too, when you try this recipe.
The tart taste of the fresh cranberries mixes with the sweetness of the orange and picks up the flavor of the salmon in a fresh new way. Your taste buds will be absolutely delighted!
Ingredients
2-4 wild caught salmon fillets (sockeye salmon is great with this-it has a firmer texture and sweeter taste)
Jerk seasoning (I used a pre-made powdered rub)
1 cup (or so) fresh cranberries, chopped with a knife, or lightly processed in food processor
½ small red onion
1-2 minced garlic cloves
1 orange, tangerine or blood orange, sectioned and cut in pieces
Juice of half a lime
Hot pepper flakes, to taste
2-4 Tbsp. chopped cilantro
1 tsp or so honey or maple syrup, to taste
Sea salt
Directions
Chop cranberries, and mix with orange, onion, lime, cilantro and hot pepper flakes. Season the salmon with jerk seasoning, and grill or broil till tender and flaky.  Serve topped with cranberry mixture. Enjoy!  Serves 2-4.
If you want an amazing healthy dessert treat made with cranberries, try this recipe:
White chocolate bark with cranberries & pistachios
And here's a recipe below from my good friend Danette May on how to make healthier lower-sugar cranberry sauce that tastes great:
Healthier lower sugar cranberry sauce
References:
World's healthiest foods, www.whfoods.org, 2001-2010 The George Mateljan Foundation
Allison DG, Cronin MA, Hawker J, Freeman S. Influence of cranberry juice on attachment of Escherichia colito glass. J Basic Microbiol. 2000;40(1):3-6. 2000.
Burger O, Weiss E, Sharon N, Tabak M, Neeman I, Ofek I. Inhibition of Helicobacter pylori adhesion to human gastric mucus by a high-molecular-weight constituent of cranberry juice. Crit Rev Food Sci Nutr. 2002;42(3 Suppl):279-84. 2002.
Farnier M, Garnier P, Yau C, Dejager S, Verpilleux MP. Prevalence of low HDL-cholesterol in patients with cardiovascular risk factors: The ECHOS (Etude du Cholesterol HDL en Observationnel) French Survey. Int J Clin Pract. 2006 Oct;60(10):1166-71. Epub 2006 Aug 24. 2006. PMID:16942588.
Howell AB. Cranberry proanthocyanidins and the maintenance of urinary tract health. Crit Rev Food Sci Nutr. 2002;42(3 Suppl):273-8. 2002.
Kessler T, Jansen B, Hesse A. Effect of blackcurrant-, cranberry- and plum juice consumption on risk factors associated with kidney stone formation. Eur J Clin Nutr. 2002 Oct;56(10):1020-3. 2002.
Kruse-Elliott K., Reed J. Cranberry juice modulates atherosclerotic vascular dysfunction. Paper presented at the 35th Congress of the International Union of Physiological Sciences in San Diego, CA, April 3, 2005. 2005.
Neto C, Krueger C, Lamoureaux T, Kondo M, Vaisberg A, Hurta R, Curtis S, Matchett M, Yeung H, Sweeney M, Reed J. MALDI-TOF MS characterization of proanthocyanidins from cranberry fruit (Vaccinium macrocarpon) that inhibit tumor cell growth and matrix metalloproteinase expression in vitro. Journal of the Science of Food and Agriculture, published on-line October 17, 2005, DOI 10.1002/jsfa.2347. 2005.
Reed J. Cranberry flavonoids, atherosclerosis and cardiovascular health. Crit Rev Food Sci Nutr 2002;42(3 Suppl):301-16. 2002.
Reid G. The role of cranberry and probiotics in intestinal and urogenital tract health. Crit Rev Food Sci Nutr 2002;42(3 Suppl):293-300. 2002.
Vinson JA, Su X, Zubik L, Bose P. Phenol antioxidant quantity and quality in foods: fruits. J Agric Food Chem. 2001 Nov;49(11):5315-21. 2001.
Yan X, Murphy BT, Hammond GB, Vinson JA, Neto CC. Antioxidant activities and antitumor screening of extracts from cranberry fruit (Vaccinium macrocarpon). J Agric Food Chem. 2002 Oct 9;50(21):5844-9. 2002.
Zheng W, Wang SY. Oxygen radical absorbing capacity of phenolics in blueberries, cranberries, chokeberries, and lingonberries. J Agric Food Chem. 2003 Jan 15;51(2):502-9. 2003.
Lipson, Sethi, Choen, Gordon, Tan, Burdowski, Stotzky. (Jan 2007). Antiviral effects on bacteriophages and rotavirus by cranberry juice. Phytomedicine. Retrieved from https://www.ncbi.nlm.nih.gov/pubmed/17140784