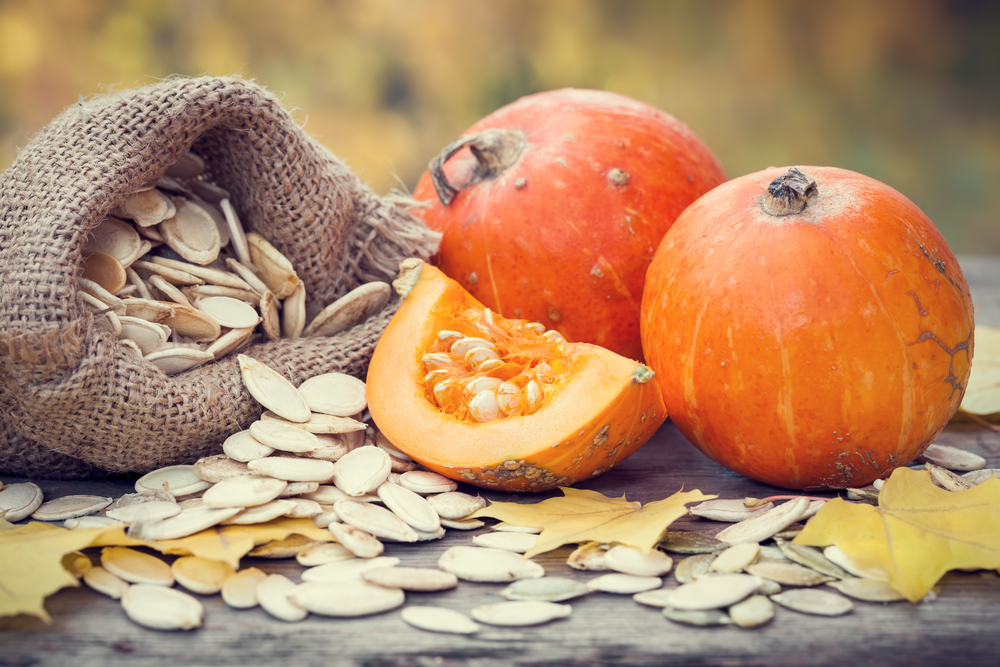 Benefits of pumpkin seeds includes blood pressure, urinary health, immunity, Testosterone, and lots more…
By: Catherine Ebeling 
Co-author of the best-sellers:  The Fat Burning Kitchen, The Top 101 Foods that Fight Aging & The Diabetes Fix
One of my favorite salty, crunchy, nutty snacks is pumpkin seeds. I especially love these because they are great if you happen to have a peanut or nut allergy. Pumpkin seeds are also powerhouse snacks full of amazing nutrition that you cannot get elsewhere. They contain great stuff like magnesium, zinc, copper, protein, trytophan, and more. They also contain some very healthy fats and antioxidants, so they fill you up with low-glycemic protein, fiber, and add a powerful nutritional punch as well. And, well this is a great time of year to get some freshly made pumpkin seeds—my favorite!
Rich in Magnesium:
Magnesium is vital to about 300 or more of your body functions, and most of us are short on this incredible nutrient. Magnesium helps to create ATP, which are the energy molecules in your body, it helps to make RNA and DNA, the heart of each of your cells, regulates your heart beat, helps you sleep and relax, creates healthy bones, lowers your blood pressure and keeps you regular. Since about 80% of the population is in need of more magnesium and if you are an athlete, drink alcohol, take blood pressure medicine, need help maintaining your blood sugar, you need even more.
Great Source of Tryptophan:
Tryptophan is a substance in foods that is the raw material for our bodies to make serotonin, the the 'feel good' brain neurotransmitter. Serotonin not only helps with depression but it also alleviates anxiety. In fact, most anti-depressants and anti-anxiety drugs work to preserve serotonin as it is vital to feelings of well-being. Studies have been shown that foods containing tryptophan are definitely helpful in banishing anxiety and depression.
Tryptophan also helps to promote healthy sleep. Melatonin combined with serotonin help to create a restful, relaxing sleep and tryptophan provides the raw materials for both of these desired brain neurotransmitters. Try a handful or two of pumpkin seeds combined with some cherries for a bedtime snack, and you will sleep like a baby and wake rested!
Zinc, Immunity, Testosterone, etc:
Pumpkin seeds also contain a hefty supply of zinc, which not only beefs up your immune system and helps you fight off colds and flu, but also serves as an important nutrient for brain and mood.
Zinc also helps with healthy cell growth and division and faster healing of wounds. Diabetics and overweight individuals should also take note as it helps to regulate blood sugar, and appetite.
And last but not least, zinc is vital to males for healthy sperm and testosterone supply. Pumpkin seeds have been associated with virility for many many years and zinc is also beneficial for prostate health and helps prevent BPH, or enlarged prostate issues.
Men with BPH often suffer from urinary frequency as it is often difficult to empty the bladder with an enlarged prostate. A diet high in pumpkin seeds or pumpkin seed oil can offer dramatic relief from the urinary issues associated with BPH. Studies show a 40% increase in urinary flow and a 30% reduction in urinary frequency compared to a placebo.
Zinc deficiencies are common from crops that are grown in nutrient-depleted soil, vegetarian diets—especially those who eat a lot of soy foods, and those who eat highly processed starchy foods like grains and beans.
Nuts and seeds are often one of the best ways to get plant-based omega 3 fatty acids in the form of ALA. Many vegetarians and vegans depend on this method for omega 3 fats, however it does take quite a lot of alpha-linolenic acid to convert to the usable EPA and DHA that we need, so it is advisable to get some omega 3 fats from animals or fish.
Pumpkin seed oil is also known for its anti-inflammatory effects that increase HDL (good cholesterol), lower the bad LDL and overall cholesterol, fight heart disease, and decrease blood pressure, as well as helping arthritis.
Pumpkin seeds offer a tasty and powerful addition to your diet, and you don't have to wait until Halloween to eat them. But they are best and at their most nutritious eaten raw. Pumpkin seeds should be eaten organic if possible. The nutrients are the most available if they are sprouted or soaked which helps to remove the natural phytic acid in them that can block nutrient absorption.  If you try to dry your own, it's a good amount of work to take the shells off of them, so we choose to purchase pre-shelled raw pumpkin seeds such as these at ThriveMarket.
Try throwing a handful of pumpkin seeds into your next smoothie, or adding them to a salad, in your oatmeal or yogurt. They are also great in soups, stews and even meatloaf or cookies.
Here's another interesting article on pumpkin seeds:
Prevent diabetes and 10 more reasons to eat pumpkin seeds
References:
Protein-source tryptophan as an efficacious treatment for social anxiety disorder: a pilot study Craig Hudson,ab Susan Hudson,b Joan MacKenziec  October 2007
Klippel KF, Hiltl DM, Schipp B, "A multicentric, placebo-controlled, double-blind clinical trial of beta-sitosterol (phytosterol) for the treatment of benign prostatic hyperplasia. German BPH-Phyto Study group.",  http://www.ncbi.nlm.nih.gov/pubmed/9313662?dopt=Abstract , 1997 Sep, PMID: 9313662 [PubMed – indexed for MEDLINE], Department of Urology, Allgemeines Krankenhaus Celle, Academic Hospital, Germany