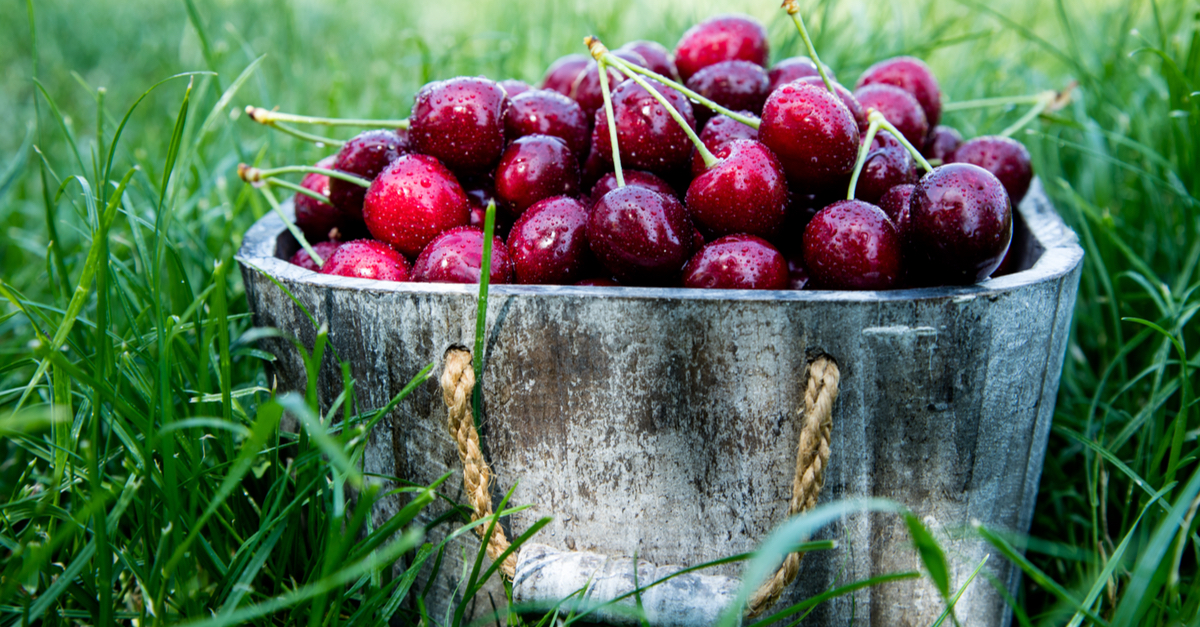 By: Catherine Ebeling & Mike Geary
Co-author of the best-sellers:  The Fat Burning Kitchen, The Top 101 Foods that Fight Aging & The Diabetes Fix
I love cherries! Dried, fresh, frozen, tart or sweet…in smoothies, on salads, even in main courses. They are an excellent sweet healthy snack full of antioxidants, and fat burning ingredients.
Cherries contain some unique and pretty awesome bioactive components that can help prevent cancer, diabetes, heart disease, Alzheimer's and other inflammatory diseases—as well as prevent muscle soreness, and help you sleep. Not only that, cherries are an extremely effective treatment for arthritis pain, gout, hemorrhoids, and allergies.
Cherries have boatloads of antioxidants in them that fight free radical damage and protect our cells' DNA. Free radicals are linked to many diseases including cancer, heart disease, and dementia. Cherries also contain the super-nutrients quercetin, hydroxycinnamates, potassium, carotenoids and melatonin. Even sweet cherries have a healthy low glycemic index of 22, making them a healthy food for people trying to keep their blood sugar stable.
Anti-Inflammatory
Cherries are one of the best anti-inflammatory foods you can eat. These little red powerhouses contain phytochemicals called "anthocyanins" that give them their deep red color. Scientists at Johns Hopkins University found that the powerful antioxidants called anthocyanins in tart cherries were as effective at decreasing inflammation as the anti-inflammatory drugs Ibuprofen, aspirin and Tylenol. Another study published in the Journal of Natural Products showed that anthocyanins and cyanidin isolated from tart cherries worked better than aspirin. And many studies have shown that Tylenol and Ibuprofen can be extremely harmful to the liver and very toxic, so eating foods that are anti-inflammatory is far better for your health.
In fact, cherries can even help your workouts. Cherries have been proven to get rid of the aches and pains from an intense workout. They can actually reduce muscle soreness as well. This study published in Journal of International Society of Sports Nutrition looked at cherries' power to reduce muscle damage and soreness from working out.  54 runners ran a 16 miles race, while drinking tart cherry juice or a placebo. The group drinking the cherry juice reported a significantly smaller increase in pain compared to the placebo group, which was attributed to cherries' anti-inflammatory effect.
Arthritis and Gout
Over 33 million Americans have osteoarthritis. Arthritis can physically affect the joint, creating friction and lots of pain when the cartilage wears down. In one study done at the Osteoarthritis Research Center with 58 osteoarthritic patients who drank two 8-ounce bottles of tart cherry juice for six weeks, Western Ontario McMaster Osteoarthritis Index (WOMAC) scores decreased significantly after the tart cherry juice treatment. The WOMAC index is standardized questionnaire used by health professionals to evaluate patients with osteoarthritis of the knee and hip, including pain, stiffness, and physical functioning of the joints.
Gout is another type of arthritis that is extremely painful, usually affecting the big toe. Uric acid crystals build up in the toe joint, causing major inflammation, swelling, redness and serious pain. High uric acid levels in the body can also be associated with diabetes, heart disease, and kidney disease. A large study of 633 people with gout were treated with cherry extract over a two-day period showing a 35% lower risk of gout attacks. When cherry intake was combined with allopurinol, a prescribed medication for gout and kidney stones, the risk of gout attacks was 75% lower.
Anti-Cancer
Anthocyanins from cherries, especially sour cherries have such strong antioxidant and anti-inflammatory activity, they inhibit tumor development in mice and the growth of human cancer cells. On a study done with mice with a genetic risk of colon cancer, a diet of tart cherries and anthocyanins helped prevent colon cancer and tumor growth. This study also showed that these two compounds from cherries reduced the growth of human colon cancer cells as well.
One other study done on humans with cherry extract showed a reduction in the growth of colon cancer cells and human breast cancer cells as well.
Sleep Soundly with Cherries
Cherries also help you sleep more soundly because they are one of the only foods that contain a natural substance called 'melatonin'. Melatonin is a hormone in the body that regulates sleep cycles and helps you sleep deeply. Tart cherries contain the highest levels of melatonin. It only takes two tablespoons of concentrated tart cherry juice to promote good quality, deep sleep necessary for healing and repair of the body.
Melatonin contains powerful antioxidants that helps reverse aging as well. What's more, a good night's sleep helps to reduce cortisol which helps you burn fat better as well! In a study published in the European Journal of Nutrition, 20 volunteers consumed either a placebo or tart cherry juice concentrate for seven days. As a result of this treatment, total melatonin content was significantly elevated in the cherry juice group.
Healthy Hearts
Tart cherries can also protect the heart and reduce the risk of strokes. Research done at University of Michigan shows tart cherries activate something called PPAR (peroxisome proliferator activating receptors) in the body. These receptors are connected to glucose and fat metabolism and can help reduce heart attacks and cardiovascular disease. There are prescribed medications that do the same thing, but they come with serious side effects, such as increasing the risk of heart attacks and stroke!
While sweet cherries are effective, tart cherries contain even more of the powerful antioxidants that burn fat, help with muscle aches and soreness and help you sleep more soundly. Enjoy cherries in your next smoothie, on top of your breakfast oatmeal, throw in a salad, or just plain for a sweet, satisfying snack! One of my favorite snacks is frozen organic cherries mixed with raw almonds, and sprinkled with a little bit of cinnamon.  Give it a try!
(Mike's cherry-infused cocktail tip: I have a sour cherry tree in my yard, so I get literally 1000's of tart cherries every July… My favorite way to use all these sour cherries is to fill a bunch of mason jars with cherries and then add rye whiskey to the top of each jar, so that the sour cherries are infusing in the whiskey.  I let the jars sit at least for a couple weeks before I start drinking the cherry-infused whiskey, although many of the jars will soak for months before we get around to beginning to drink them.  
Each night after dinner, I like to take 1 shot of the cherry-infused whiskey, add a few shakes of organic digestive bitters, and a splash of sweet vermouth, and enjoy a super-healthy cocktail that's a healthier version of a manhattan. The antioxidants and natural melatonin get extracted very effectively from the cherries by the alcohol (the cherries become white over time as the whiskey extracts all the phytonutrients) and help you fight inflammation, joint pain, and can help to get me to fall asleep easier from the natural melatonin.  I used to have knee pain years ago, but I think this combination of having 1 drink per day of my cherry-infused whiskey and my 1 mug per day of bone broth has completely eliminated my knee pain.  My joints have never felt better since I've been doing this nightly ritual!)
Here's another article on the benefits of tart cherries:
7 Reasons to eat more tart cherries and boost your health
And some more tips on sleeping better, using tart cherry syrup and other tips too:
Drink tart cherry syrup and THIS tea to sleep deeper (plus 5 tips for insomnia)
References:
Axe, J. Dr. Benefits of Cherries: Weight Loss, Gout Healing & Less Inflammation. Dr. Axe Food is Medicine. Retrieved from https://draxe.com/benefits-of-cherries/
Kang SY, Seeram NP, Nair MG, Bourquin LD. Tart cherry anthocyanins inhibit tumor development in Apc(Min) mice and reduce proliferation of human colon cancer cells. Cancer Lett. 2003 may 8;194(1):13-9.
Kuehl, Perrier, Elliot, Chesnutt. (April 2010). Efficacy of tart cherry juice in reducing muscle pain during running: a randomized controlled trial. Retrieved from https://jissn.biomedcentral.com/articles/10.1186/1550-2783-7-17
Olsson ME, Gustavsson KE, Andersson S, Nilsson A, Duan RD. Inhibition of cancer cell proliferation in vitro by fruit and berry extracts and correlations with antioxidant levels. J Agric Food Chem. 2004 Dec 1;52(24):7264-71.
Tall JM, Seeram NP, Zhao C, Nair MG, Meyer RA, Raja SN. Tart cherry anthocyanins suppress inflammation-induced pain behavior in rat. Behav Brain Res. 2004 Aug 12;153(1):181-8.
Schumacher, Pullman-Mooar, Gupta, Dinnella, Kim, McHugh. (August 2013). Randomized double-blind crossover study of the efficacy of a tart cherry juice blend in treatment of osteoarthritis (OA) of the knee. Retrieved from https://www.ncbi.nlm.nih.gov/pubmed/23727631
Wang, Nair, Strasburg, Chang, Booren, Gray, DeWitt. (Feb 1999). Antioxidant and antiinflammatory activities of anthocyanins and their aglycon, cyanidin, from tart cherries. Retrieved from https://www.ncbi.nlm.nih.gov/pubmed/10075763