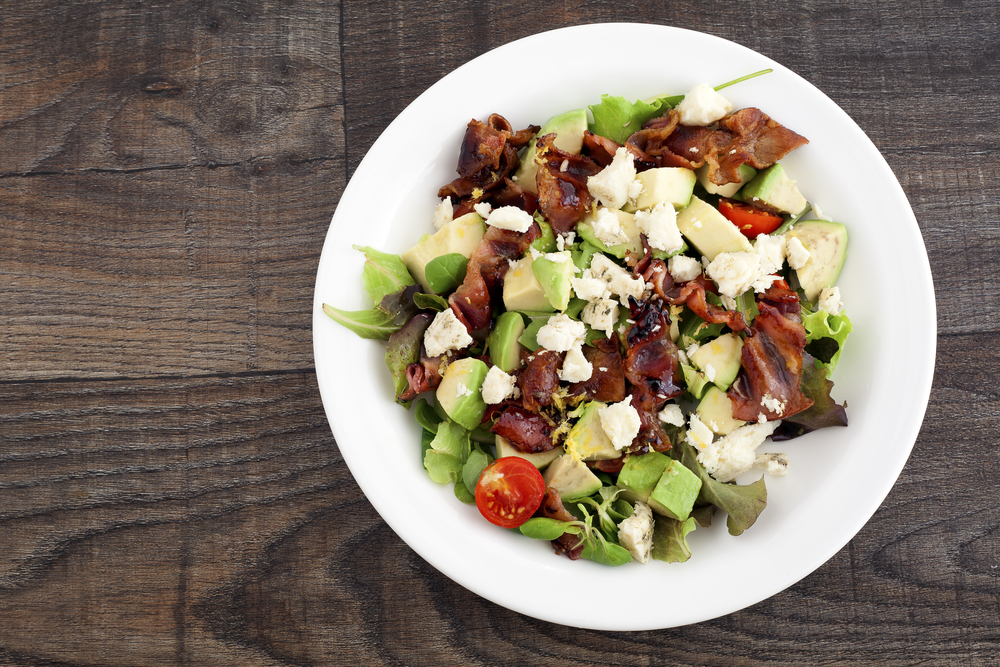 By: Cat Ebeling 
Co-author of the best-sellers:  The Fat Burning Kitchen, The Top 101 Foods that Fight Aging & The Diabetes Fix
Love Bacon, Lettuce and Tomato Sandwiches? This is a great way to enjoy that same great flavor, without the blood sugar raising, fat-storing bread. Instead you get loads of antioxidant rich, disease-fighting, fat-burning vegetables, proteins and healthy fats.
Bacon makes most everything taste better—just be sure to get the chemical and preservative free natural bacon. There is now sugar-free bacon available, and if you are watching your blood sugar, this is the kind to get!
Avocados contain a massive supply of antioxidants, vitamins, minerals and satiating healthy fats. Avocados' healthy fats help to stabilize blood sugar and insulin, making them an excellent food to fight diabetes and weight gain. They are low glycemic and help you feel full longer. Plus their creamy rich flavor adds perfectly to this yummy salad. The Journal of Nutrition and Cancer shows avocados contain cancer-fighting phytochemicals as powerful as some chemotherapy!
And, avocados contain oodles of oleic acid the same type of healthy fat that is in olive oil, which helps—among other things—lower bad cholesterol and fight cancers. Unlike saturated fats or highly processed vegetable oils, avocado oil regulates blood sugar, protects the heart as well as the brain. Avocados contain plenty of oleic acid, the same monounsaturated fat in olive oil, that helps lower cholesterol, minimizes skin wrinkles, and is helpful in preventing breast cancer and other cancers. Avocados massive supply of phytonutrients including their polyphenols and flavenoids also help fight osteoarthritis, and other inflammatory degenerative diseases. Read more about the amazing benefits of avo's here.
Rich dark greens are a superfood that add a monstrous amount of healthy antioxidants and phytochemicals—natural nutrients that protect your health in a variety of ways. Not only do they add tons of fiber, but they add massive amounts of folate, carotenoids, vitamin C and K, as well as iron and calcium. Research shows the carotenoids in dark green leafy vegetables like lettuce and spinach and chard can actually help halt the growth of certain types of cancer including breast, skin, lung and stomach cancer—as well as pancreatic cancer.
And don't forget to add lots of red, ripe tomatoes which contain rich supplies of anti-oxidants like lycopene, beta-carotene, folate, potassium, vitamin C, other flavonoids, as well as other nutrients. Tomatoes are most famous for their copious amounts of lycopene, which is well-known as a cancer-fighting substance—especially prostate cancer in men. Lycopene has also been scientifically shown to stop or slow cancerous tumor growth as well, helping to fight against lung, stomach, colon, oral, breast, and cervical cancers as well. Tomatoes contain other antioxidants as well including zera-carotene, phytoene and phytofluene, that fight inflammation and diseases like heart disease, cancer, diabetes, arthritis and dementia. Their powerful antioxidants also protect against high blood pressure, and help to lower cholesterol, as well as improving blood vessel health.  With all of that said about tomatoes, please realize that as a nightshade vegetable, tomatoes can cause problems for some people.

Ingredients
Romaine, leaf lettuce, baby greens, chard, spinach, etc
Cherry tomatoes, sliced in half, or 1-2 larger tomatoes, chopped
4-6 slices natural bacon, cooked and chopped up
Avocado, chopped
Raw blue or goat cheese, optional
Extra virgin olive oil and apple cider or balsamic vinegar
¼ to ½ chopped red onion
Directions
Cook bacon ahead of time, chop. Clean and chop vegetables and lettuce. Assemble with generous amounts of bacon and avocado.
Add dressing before serving and garnish with cheese if desired.  This is a perfect low-carb meal for those following the wildly popular ketogenic diet.
You should also know that this recipe is an almost perfect low-glycemic snack for Diabetics, due to it's blend of fiber, healthy fats, antioxidants, and a reasonably low amount of sugars and carbs that impact blood sugar.  Speaking of Diabetes, make sure to read this page next:
1 Simple trick to REVERSE your Type 2 Diabetes (this also helps reduce stubborn belly fat)