by Cat Ebeling & Mike Geary
co-authors of the best-sellers:  The Fat Burning Kitchen, The Top 101 Foods that Fight Aging & The Diabetes Fix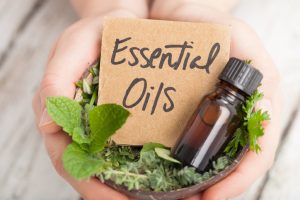 Antibiotic overuse is creating monstrous superbugs that can cause incurable infections, serious illnesses, amputations, and even death. Antibiotic overuse in the beef, pork and poultry business, in human medications, and even antibacterial hand soap and cleaners has created a new breed of bacteria that is antibiotic-resistant. Latest news shows some new bacteria strains that are totally resistant to ALL forms of current antibiotics! It's really only a matter of time before these bacteria become out of control and even more deadly.
Antibiotics kill off the all-important microbiome existing in our bodies, that does everything from helping protect and preserve the immune system, prevent overgrowth of dangerous bacteria, fungus and viruses, but it is now known that these beneficial bacteria also affects moods, anxiety and depression and overall wellbeing. After antibiotics, it may take up to a year or more to regrow the healthy populations of essential beneficial bacteria in the gut. My best advice to you is to avoid antibiotics if at all possible and to try a natural approach first. Essential oils offer a first line of defense against antibiotic resistant and common bacteria—as well as yeasts and fungus. Certain essential oils can be as effective–if not more effective–at doing the job that antibiotics do—without the harmful side effects.
In one study of essential oils' effectiveness against certain bacteria, ten different essential oils were tested for their antibacterial activity against 22 bacteria and fungi. It was found that lemongrass, eucalyptus, peppermint and orange were effective against all 22 bacteria and fungi.
How Antibacterial Essential Oils Can Help You
Essential oils have been scientifically proven to fight many bacteria, even the antibiotic-resistant bacteria as well as—or better than conventional antibiotics and antifungals which are harmful to your health. Essential oils work against candida, staph, salmonella, E.coli, giardia and more.
Hospitals are fighting a losing battle trying to stay a step ahead of antibiotic-resistant bacteria. Some of these bacteria are deadly and resistant to every known antibiotic and can spread very easily within hospitals from patient to patient. Essential oils are now being used in many hospitals as an alternative to the powerful and dangerous synthetic medical antibiotics.
Another strain of resistant bacteria that has recently developed is the MARCoNS bacteria which is a type of staph. It actually has the ability to protect itself from antibiotics by forming a protective film.
MARCoNS is a tricky strain of bacteria defined as multiple antibiotic-resistant coagulase negative staph. MARCoNS is challenging because it has this unique ability to protect itself from treatment, even antibiotics, by forming a protective biofilm. Biofilms can cause deadly infections and are very resistant to most antibiotics, but cinnamon oil has been found effective against this deadly bacteria.
Traveling is especially risky for being exposed to new and dangerous bacteria, fungi, and parasites, especially in underdeveloped countries that don't have good sanitation or water supply. You can also be exposed to dangerous bacteria and other pathogens through the air, as in airplanes when in close contact with others. Oregano oil and other essential oils are very effective in fighting off these invaders when traveling without the side effects of antibiotics.
Let's take a look at the top four most versatile and powerful antibiotic essential oils:
Tea tree essential oil
Tea tea oil is one of my favorites for powerful antibiotic activity. It is one of the few essential oils that can be applied directly to the skin. Tea tree oil is effective for infections, scrapes, cuts, burns, and even skin conditions like eczema, psoriasis, acne, and even warts. I especially like it for fungal infections like athlete's foot and nail fungus.
Tea tree oil, or malaleuca oil, has had numerous studies done on its ability to kill even superbug bacteria like MRSA (methicillin-resistant staphylococcus aureus). And this study from 2013,  showed tea tree oil not only killed powerful antibiotic resistant bacteria, but also significantly speeds up the healing time compared to conventional treatments.
Tea tree oil can also be used in a diffuser to help kill cold or flu virus, stop a sinus infection, or clear up nasal or chest congestion.
Oregano essential oil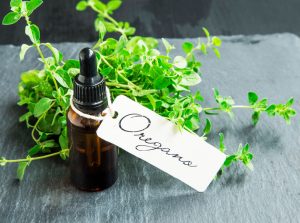 Oregano has been used by the ancient Greeks and Romans for more things than just seasoning their food. Oregano oil is a powerful antibiotic and has been used for years to treat wounds and infections on the skin. Its ability to knock out an infection has shown effective even against staph infections. It is also antiviral, antioxidant, antifungal, anti-parasitic, anti-inflammatory, and has anesthetic (pain-relieving) properties as well! Its two active ingredients, carvacrol and thymol have very powerful antibacterial and antifungal properties. A 2001 study from Georgetown University found the oil to be as effective as most antibiotics and is especially effective against fungus like athlete's foot and toenail fungus.
Oregano oil can kill off a sinus infection just by inhaling the steam from a few drops of the oil in water. Oregano oil can also stop pneumonia in its tracks as well—even the antibiotic-resistant types of bacterial pneumonia.
If traveling, don't forget your oregano oil capsules. Common parasitic infections such as giardia lambdia can make you extremely ill with debilitating diarrhea, fever and stomach pains for several weeks. But oregano oil has been shown to be highly effective against giardia, E.coli, salmonella, campylobacter, and staph. The key is to take regularly in foreign countries, and increase the dose if you feel any symptoms of illness.
Oregano is best taken on a short term basis (no more than two weeks at a time).
Cinnamon essential oil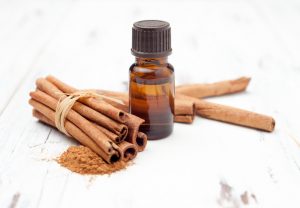 Besides its great aroma, cinnamon oil is one of the strongest antibacterial oils of all of them, according to some research. A study in 2006 study on cinnamon oil and bacteria such as staphylococcus aureaus, E. coli, pseudomonas, and klebsiella show cinnamon oil to be more powerful that even other antibacterial oils including clove, rosemary, geranium, lime, orange and lemon. Cinnamon oil is also effective against common dental bacteria that cause cavities and root canal procedures. Cinnamon oil works well added to toothpaste or you can make your own. Using cinnamon oil in a diffuser or steamer will add a delicious fragrance to your home and also help to kill off airborne bacteria.
Cinnamon oil has other amazing benefits too. It's a powerful antioxidant, digestive aid, blood sugar stabilizer and blood circulation booster. It can relieve depression, stimulate the immune system, and combat cardiovascular disease. It also works as an antiparasitic, and anti-inflammatory. Oh, and it's an effective remedy for impotence too. Cinnamon oil contains the active ingredients eugenol, cinnamaldehyde, and phellandrene.
Clove essential oil
Clove oil has been a favorite of new mothers for years as a soothing relief for baby's teething pains or for toothaches. It's been used for toothaches since the 1600's when dentistry was not at it best, but it's thought that it's been in use for over 2000 years. In one study, it was shown that clove oil had the same effect as benzocaine. What's more, clove oil can actually help to re-calcify teeth, as well as prevent cavities.
Clove oil also contains the same active ingredient as cinnamon oil, eugenol. Clove oil came out second only to cinnamon oil in studies of essential oils effectiveness against common bacteria and candida albicans. Clove oil has been shown to be as effective as the conventional medication, nystatin, in treating yeast infections, as well as intestinal parasites. Clove oil is also especially good at treating acne, as it can kill the bacteria responsible for causing acne breakouts, as well as warts, coughs, colds and asthma.
References:
Axe, Josh. Top 4 antibacterial essential oils. Retrieved from https://draxe.com/antibacterial-essential-oils/
Chin, Cordell. (2013). The effect of tea tree oil (Melaleuca alternifolia) on wound healing using a dressing model. Retrieved from https://www.ncbi.nlm.nih.gov/pubmed/23848210
Bright, (2016). 8 most powerful antibacterial essential oils and how to use them. Natural living Ideas. Retrieved from http://www.naturallivingideas.com/antibacterial-essential-oils/
Pattnaik, Subramanyam, Kole (1996). Antibacterial and antifungal activity of ten essential oils in vitro. Microbios. Retrieved from https://www.ncbi.nlm.nih.gov/pubmed/8893526
Inouye, Takizawa, Hideyo (2001). Antibacterial activity of essential oils nd their major constituents against respiratory tract pathogens by gaseous contact. Journal of Antimocrobial chemotherapy. Retrieved from https://academic.oup.com/jac/article/47/5/565/858508/Antibacterial-activity-of-essential-oils-and-their
http://universityhealthnews.com/daily/digestive-health/1-of-the-best-natural-remedies-for-food-poisoning-oregano-oil/