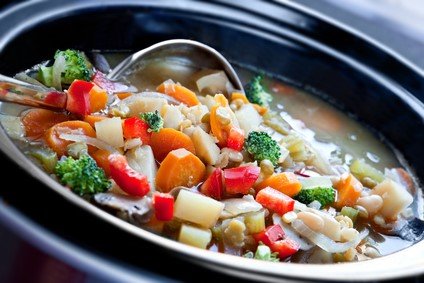 By: Cat Ebeling, RN, MSN-PHN, co-author of the best-sellers:  The Fat Burning Kitchen, The Top 101 Foods that Fight Aging & The Diabetes Fix
Powerful Antioxidants in Herbs and Spices

Adding spices and herbs to your meals is a great way to amplify the antioxidants and other nutrients in your dishes.
You can transform your meals from ordinary and bland to extraordinary with the addition of a few herbs and spices. What's more, many herbs and spices contain some of the most powerful antioxidants of all! Plenty of scientific studies show that herbs and spices can actually work as well or better than some medications for certain health issues.
Many herbs and spices have even more antioxidants than many vegetables and fruit, and combining specific herbs and spices with specific foods actually magnifies the nutrient value exponentially!
Here are just some of the ways that herbs and spices can boost the nutrition in your favorite recipes:
Fat Burning
– Herbs and spices are thermogenic, meaning they naturally increase metabolism and fat burning, partly because they are so nutrient-dense. For example, eating hot peppers will actually speed up your metabolism and help your body burn fat. And they can decrease your appetite as well. Research shows that that when someone eats an appetizer with just half a teaspoon of red pepper flakes before each meal, they eat 15% less food at their meal.
Regulate blood sugar and control insulin
– When blood sugar is well controlled, you burn fat better, and store fewer calories as excess weight. For example, cinnamon significantly reduces blood sugar levels. It also improves cholesterol and triglyceride levels. One study of people with type 2 diabetes showed that as little as two teaspoons of cinnamon reduced blood sugar similar to diabetic medication.
Protects the brain
– Researchers found that curcumin, the active ingredient in turmeric, is more effective in slowing down the progression of Alzheimer's than some medications for this condition.
Herbs and spices can also increase your feelings of satisfaction and fullness after a meal, so you eat less.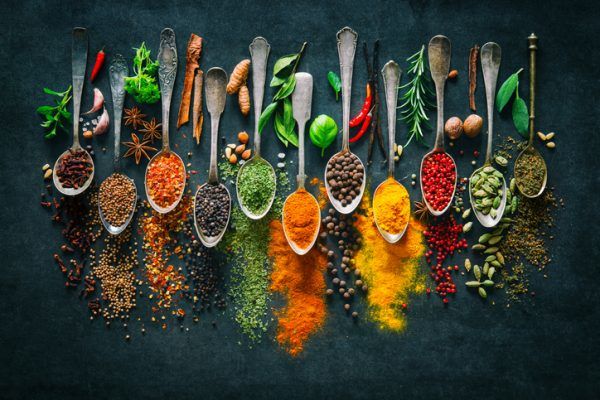 Here are more health benefits of some popular herbs and spices:
• Rosemary and basil–anti-inflammatory.
• Cumin, turmeric and sage–fight dementia.
• Cayenne, coriander and cinnamon–burn fat and help regulate insulin.
• Lemon grass, nutmeg, bay leaves and saffron–have a calming effect.
• Turmeric—fights cancer.
• Oregano—antifungal and antibacterial.
• Garlic, mustard seed and chicory–excellent for the heart.
• Basil and thyme–help skin become soft and smooth.
• Turmeric, basil, cinnamon, thyme, saffron, garlic and ginger–boost the
immune system.
• Coriander, rosemary, cayenne, allspice and black pepper–banish depression.
• Garlic, cumin, fennel, coriander and mint have been used traditionally to help treat digestive disorders.
So you see, healthy food does not have to bland and boring, so spice it up, and boost your health as well! Add your favorite herbs and spices to this delicious vegetable soup!
Amazing Vegetable Soup
Vegetable soup doesn't have to be that hard. Simply start with a base of onions, garlic, carrots and celery, and then you can add vegetables, ad-lib! Mushrooms are always a delicious addition, as are beans if you'd like to add.
Soup, especially when using fresh vegetables is a great way to capture their garden fresh antioxidants and massive nutrients. And if you are lucky enough to have grown an garden, making vegetable soup is a delicious way to put those vegetables to use.
Add your choice of meat for a hearty, filling, healthy and satisfying meal. And, it's even better the next day or so!
Ingredients
1 lb or so chopped up boneless chicken thighs
Several cloves of garlic, chopped
1 small red onion, chopped
Shiitake mushrooms, sliced
3-4 carrots, sliced
4 stalks celery, chopped
Green beans, chopped
1 medium zucchini, chopped
2-3 tomatoes, chopped
Several leaves dinosaur kale
1 carton chicken bone broth or vegetable broth
1-2 cans garbanzos
1 cup white wine
3-4 bay leaves
Fresh or dried rosemary
1 tsp of basil
1 tsp of smoked paprika
Sea salt and black pepper, to taste
Juice of one lemon
2-4 cups water
Extra virgin olive oil
2 Tbsp butter
Directions
In a large pot, add olive oil and butter, turn pan on medium high. Chop up chicken in chunky pieces. Add garlic, mushrooms, and onion, and cook until chicken is done. Add other vegetables, and saute for a few minutes. Add the seasonings. Add broth, wine, lemon juice, garbanzos, and water. Bring to a boil, add lid and cook for an hour or more over low to medium heat with lid on. Serves a crowd, or makes great leftovers!
Enjoy!
Looking for easy, tasty recipes that help you burn fat, then look no further…
This free recipe book is packed with over 80 fat-burning Keto recipes, such has mouth-watering chicken, beef, pork meals and more…
Best yet, every single recipe uses a slow cooker. Spend less than 20 minutes in your kitchen whipping up these delicious meals.